House Republican Revolt Delays Iran Nuclear Agreement Action
Billy House and Erik Wasson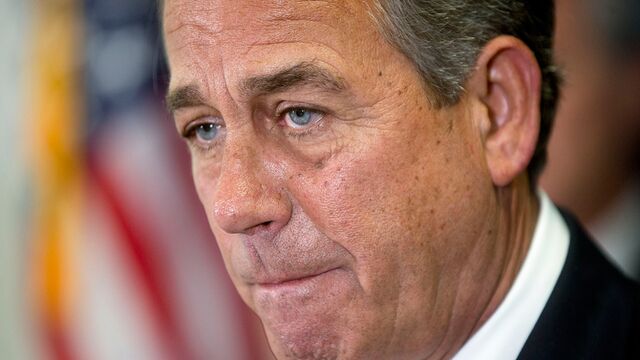 Some U.S. House Republicans rebelled against Speaker John Boehner's plan to begin action on the Iran nuclear deal Wednesday, insisting they aren't bound by a Sept. 17 deadline in their efforts to kill the agreement.
Those Republicans are rallying around a proposal to put off a vote to disapprove the deal while demanding that the Obama administration provide details of side deals involving international nuclear inspectors.
Although Republicans in Congress unanimously oppose the nuclear agreement between Iran and six world powers, Senate party leaders rejected the House conservatives' strategy.
"As I understand it, the law says we have to act before Sept. 17 or the deal goes forward," Majority Leader Mitch McConnell told reporters. Senate Foreign Relations Committee Chairman Bob Corker of Tennessee added, "The clock ends on Sept. 17."
For Boehner, the revolt is another challenge to his leadership by a cluster of members who say he's too accommodating to Obama's wishes, this time on the Iran deal.
"We had a very healthy conversation with our members this morning," Boehner, an Ohio Republican, told reporters after a closed-door party meeting Wednesday. He said there "was some interest" in the proposal by Representatives Mike Pompeo of Kansas and Peter Roskam of Illinois to delay a vote.
A House procedural vote set for Wednesday afternoon was delayed until Thursday as Republican leaders sought an agreement to move forward with a resolution disapproving of the nuclear accord. It would ease economic sanctions on Iran in exchange for curbs on the country's nuclear program.
Senate Proposal
The Senate is also debating a disapproval measure, although President Barack Obama has gathered enough Democratic support in that chamber to ultimately protect the accord from being scuttled by Congress.
Representative John Fleming of Louisiana told reporters that he and other Republican lawmakers think that voting now and failing to void the deal would be the same as "tacit" approval.
House conservatives say their move will either force the release of the side agreements or, if Obama doesn't turn them over, strengthen their ability to blame Obama for any flaws in the deal.
Sept. 17 Deadline
Based on timing in the law that allows Congress to review the Iran deal, lawmakers have until the end of the day Sept. 17 to pass a resolution of disapproval. Roskam and other Republicans contend Obama hasn't provided full details of the agreement to the House and Senate, as required by the law, so the Sept. 17 deadline isn't valid.
"That's cute, but this thing has a deadline of Sept. 17," House Minority Leader Nancy Pelosi, a California Democrat, said of Roskam's proposal.
House Republicans scheduled a closed-door meeting for late Wednesday afternoon.
The dispute concerns agreements between Iran and the International Atomic Energy Agency, which would inspect the Islamic Republic's nuclear facilities under the accord. Obama administration officials said details of such agreements are kept confidential under standard procedures and that lawmakers were briefed on the substance of the accords.
Nuclear Inspections
The Vienna-based IAEA, an independent agency, concluded two agreements with Iran: one governing nuclear inspections and another governing a process to answer questions about possible military dimensions of Iran's past nuclear work, according to Daryl Kimball, executive director of the Arms Control Association in Washington. He said confidentiality has been the international agency's "practice for nearly 50 years."
One leading House Republican moderate says he would oppose any delay to the vote.
"The House would look feckless, weak, and the president would look like a winner," said Representative Charles Dent of Pennsylvania, co-chairman of the congressional Tuesday Group of Republican centrists.
He said the House could threaten a lawsuit to seek all relevant material some lawmakers believe is being withheld by the administration. But Dent said the president would simply respond, "'Sure, see you in court in 15 years' and declare victory."
Before it's here, it's on the Bloomberg Terminal.
LEARN MORE