Hillary Clinton Offers Apology for E-Mail Practices
Her comments came after she offered more reluctant answers in two recent interviews, confident that she did nothing wrong and therefore did not need to offer a blanket apology.
by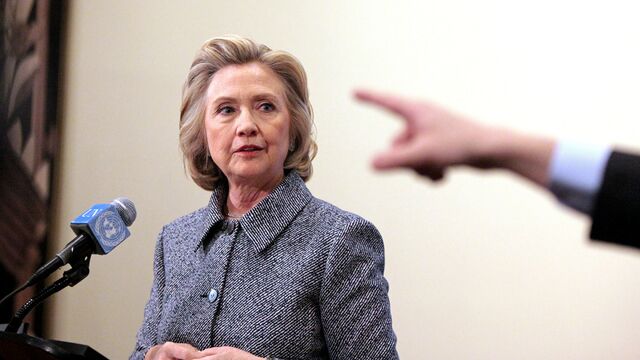 After resisting giving an unqualified apology for using a private e-mail server during her time as secretary of state, Hillary Clinton conceded on Tuesday that she was sorry.
"That was a mistake. I'm sorry about that. I take responsibility," she said in an interview with ABC's David Muir.
Later in the interview, Clinton offered a less categorical answer. "I'm sorry that it has, you know, raised all of these questions. I do take responsibility for having made what is clearly not the best decision," she said. 
Still, Clinton's tone was contrite as she discussed her e-mail account with Muir after giving more reluctant answers in two recent interviews, confident that she did nothing wrong and therefore did not need to offer a blanket apology. She's in the midst of a post-Labor Day reset aimed at shoring up her slumping favorability ratings as she struggled to put to rest the questions over her e-mail practices at the State Department.
On Friday, she expressed regret for her decision and the way it played out, but not the apology for which some Americans hoped.
"I am sorry that this has been confusing to people and raised a lot of questions," she told NBC's Andrea Mitchell. "I take responsibility and it wasn't the best choice," she later added. 
On Monday, Clinton again refused an all-encompassing apology, telling the Associated Press that she didn't need to apologize for relying on her personal account because it was allowed by the State Department. "It was fully above board. Everybody in the government with whom I e-mailed knew that I was using a personal e-mail, and I have said it would have been a better choice to have had two separate e-mail accounts," she said. "And I've also tried to not only take responsibility, because it was my decision, but to be as transparent as possible."
On Tuesday, Clinton reiterated that she does not believe she sent or received information on the account that was classified on the time. The New York Times reported Monday that a review by two intelligence agencies had identified two e-mails sent to her that included information that was "top secret" at the time. 
Clinton told Muir that she is "trying to be as transparent as I possibly can" in her handling of the e-mail issue.
Clinton said she regrets how she's handled the e-mail issue since her use of a private account first came to light six months ago. "I do think I could have and should have done a better job answering questions earlier. I really didn't perhaps appreciate the need to do that," she said.
Despite how it's played it out thus far, Clinton said she is confident that her campaign can push ahead. "I, as you might guess, have been around a while and there have been lots of, you know, attacks and counter-attacks and questions raised," she said. "I can survive it because I think I'm running to be president to do what the country needs done. And I believe the American people will respond to that."
Clinton also acknowledged Vice President Joe Biden's consideration of a presidential bid, saying he is "a great vice president" and "could be a good president."
In response to the Tuesday interview, the Republican National Committee fired off a statement questioning her sincerity. 
"The only thing Hillary Clinton regrets is that she got caught and is dropping in the polls, not the fact her secret email server left classified information exposed to the Russians and Chinese. Hillary Clinton's reckless attempt to skirt government transparency laws put our national security at risk and shows she cannot be trusted in the White House," said RNC national press secretary Allison Moore.
Before it's here, it's on the Bloomberg Terminal.
LEARN MORE