David Axelrod Dings Hillary Clinton for 'Humor and Heart' Story
The former top Obama adviser brings out the snark.
by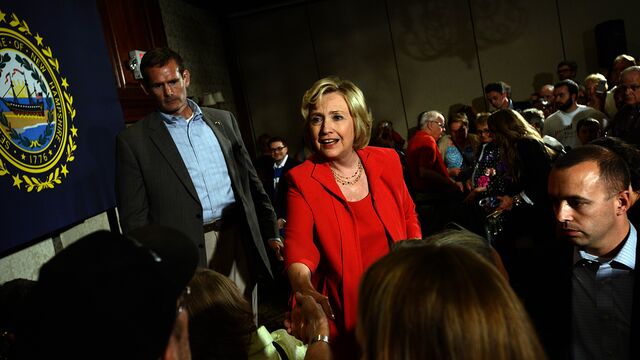 There was no shortage of snarky reactions to news in the New York Times on Tuesday morning that Hillary Clinton plans to "show more humor and heart," according to her top advisers. The one that might have stung the most came from a man who played a leading role in then-Senator Barack Obama's victory over Clinton in the 2008 Democratic primary.
David Axelrod, who was chief strategist for Obama's 2008 campaign and later a senior adviser to the president while Clinton served as secretary of state, tweeted that Clinton's plan read a bit too much like a satirical piece: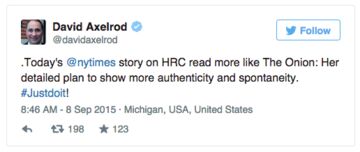 His hashtag, #justdoit, suggested that Team Clinton would be better off executing the new strategy before describing it in detail to a national newspaper.
Clinton's revamp was reported at the close of a rough summer, when Senator Bernie Sanders of Vermont surged in the polls as she dealt with continuing questions about her use of private e-mail while she was secretary of state. 
Clinton aides told the Times that Clinton will focus on showcasing her sense of humor (but not the sarcastic kind that led to the server-wiping joke) and being more spontaneous. In addition to Axelrod, Republican presidential candidate Jeb Bush's communications director jumped in with a jab at planned spontaneity: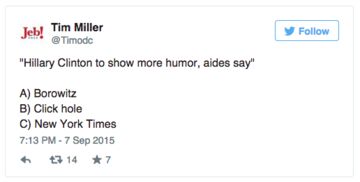 The Times story also mentioned that Clinton will tone down the rhetorical use of her granddaughter, Charlotte, as a representative for all American children, given that she was born into access to privileges and opportunities few American children ever know.  
Before it's here, it's on the Bloomberg Terminal.
LEARN MORE