Colbert Versus the Jimmys
Fallon and Kimmel transformed the talk show into a series of viral videos. Can Colbert take it back to the future?
by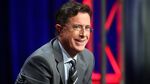 When Stephen Colbert takes over as host of the Late Show on CBS, he will be facing a challenge he never faced as host of the Colbert Report, and it's not living without the right-wing blowhard character he created for that show. It is the Jimmys. 
The Jimmys, Kimmel on ABC and Fallon on NBC, have changed the idea of what a late-night talk show is supposed to be. That's to say: It's not about talk, or conversation, or even anything so old-fashioned as a "show" anymore. It's about shareability. While the number of people who watch the show live at 11:30 at night still matters, the way the power and influence in late night is truly measured—and really, the way all media is measured anymore—is through your shares and click-throughs of easily consumable content. Sure, the Jimmys have to fill an hour of content on a weeknight, but they do it in bite-size portions, more easily to be nibbled on in five-minute segments the next morning. Thus, it doesn't matter what Julia Roberts and Jimmy Fallon talk about. It only matters that they played Face Balls, a ridiculous game that fits neatly in a five-minute clip.
For practitioners and observers of the talk show arts, this has largely been considered a depressing development. A Conan O'Brien writer in April got at it thusly: "Comedy in 2015 needs a severe motherf---ing shakeup. No celebrities, no parodies, no pranks, no mash-ups or hashtag wars. Prom King Comedy. That's what I call all this sh-t. You've let the popular kids appropriate the very art form that helped you deal." He later deleted his Tweets and was chided by O'Brien for them. But he was sort of right.
The notion of a "talk show"—where someone (almost always a white man) tells some jokes and interviews a celebrity and introduces a band and then says good night to all the viewers gathered around a television set to watch him together—is so hopelessly outdated that it deserved to be overthrown. But the new generation has turned it into a nightly game of "let's go viral." This has worked out wonderfully for the (young-ish, white, male) Jimmys. But, with the possible exception of John Oliver (a weekly show that only airs, on a pay cable station, half the year), this has not led to an elevated conversation, or any sort of conversation at all. It has led to movie stars being hit in the face by inflatable balls, and everyone lightly chuckling at it and then seeing what else is on Facebook. This is what the Jimmys have done. In David Letterman's last days on CBS, he was asked about his reasons for hanging up his microphone. He directly referenced the Jimmys, saying, "I know I can't do what Jimmy Fallon's doing. I know I can't do what Jimmy Kimmel is doing." It's a different world now. Letterman wanted no part of it. 
Into this world, then, comes Colbert, a satirist cut directly from the Letterman cloth, born from the world of improv rather than standup but with the same thoughtful and intelligent irreverence that, to be honest, has begun to feel a little bit out of style. His Late Show debuts Tuesday night, and of yet, we know next to nothing about it. Colbert has been a ubiquitous media presence over the last month—he's on the cover of GQ and Time and the focus of a massive New York Times profile by Dave Itzkoff—but he's been extremely tight-lipped about what's going to be actually on the show. "You can't discover the product until you're making it," he told Itzkoff.
But it's undeniable that he's the last best hope for anyone who wants a break from the tyranny of the Jimmys and the Shareable Clip of Celebrities Being Just Like Us. As we've noted before, Colbert's strength as a performer isn't just his comedic dexterity; it's the fundamental maturity and kindness of the Sunday school teacher he is, at his core, that can't help but come out on stage. It's why so many have been so excited to see him drop the "character" he played on the Colbert Report. The real Colbert may be the best Colbert of all.
If he's not telling us, we can get a sense of what the show may be like from the first two weeks of guests. For all the talk of Colbert getting away from politics, it is a highly political group. Guests include former Florida Governor Jeb Bush (on the first show), Vermont Senator Bernie Sanders, Vice President Joe Biden, Justice Stephen Breyer, Tesla Motors CEO Elon Musk, Uber CEO Travis Kalanick, and United Nations Secretary-General Ban Ki-Moon. Suffice it to say he won't be playing Face Balls with Breyer. (Fallon has responded by having Donald Trump on the Tonight Show on Sept. 11—of all nights–and, all told, if there were a presidential candidate to play Face Balls, it would certainly be Trump.)
This is Colbert's sensibility, even on his old show: Use comedy to find a fundamental truth, or to tell a fundamental story, rather than just go for the cheapest joke possible. (Most of the time.) Colbert is a renowned student of history and an avid consumer of political content; he's called Slate's Political Gabfest, on which he has appeared multiple times, his "uber podcast," and you can be assured of some sort of on-air interaction with that podcast's co-host, John Dickerson, a Colbert friend who also happens to be the host of CBS's Face the Nation. (The two men are also among television's most vocal and visible devout Catholics, for what it's worth.) Colbert's guests, and sensibility, are not necessarily ideally aligned for short clips of silly games. But in the upcoming campaign, they might just occasionally drive the news cycle.
After all, Colbert has a history of getting politicians from both sides of the aisle to loosen up. (In some very shareable clips, by the way.) What started with Better Know a District—a segment so popular that Rahm Emanuel once requested Democrats on the Hill not appear on it, an edict later rescinded by Nancy Pelosi—eventually led to presidential candidates past and present regularly appearing on the show. Here's a famous clip of Colbert, backstage and out of character, getting John Kerry to relax (as much as John Kerry can) before a taping.
Kerry is a little confused—it's clear he's never watched the show before and doesn't understand the Colbert character—but just that little green room conversation led to one of the most enjoyable interviews Kerry has ever given. 
Colbert's show was always less partisan than Jon Stewart's, even filtered through Colbert's character, and at its center was always its big heart. There isn't much room for genuine emotion on the Jimmys' shows. But Colbert, particularly released of the character, is capable of tugging at just the right strings, as evidenced by this famous segment about a gay mayor of a Kentucky town, considered one of the best Colbert Report segments of all time.
This is the strike zone, and the hope for Colbert: A light, funny, good-natured comedy show that also happens to feature smart people doing smart things in front of a mass audience, one that, like the Colbert Report, attempts to elevate its audience rather than talk down to it in the name of the lowest-hanging fruit. It is entirely possible that this cannot be done in today's media environment. It's possible the Jimmys and their silly games and obnoxious pranks are all we have room for on a daily basis. But Colbert is a bet on talent, and ambition, and the intelligence and curiosity of a segment of the American viewing public. I'm just dumbly naïve enough to think he can pull it off.
Before it's here, it's on the Bloomberg Terminal.
LEARN MORE