Obama and Biden Court Labor With Legacy and 2016 in Play
Angela Greiling Keane and Margaret Talev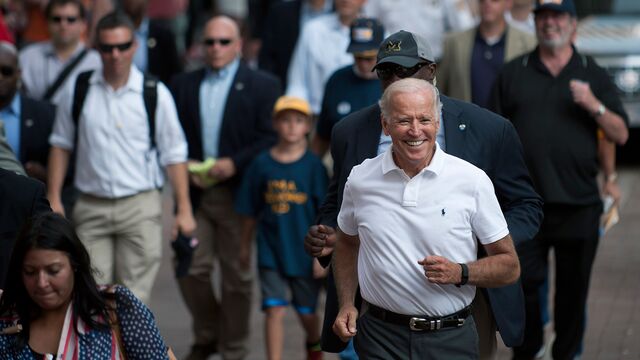 President Barack Obama and Vice President Joe Biden conducted Labor Day charm offensives as the White House seeks to ease strained relations with unions and Biden considers a possible presidential run.
Biden flew to Pittsburgh on Monday to kick off the annual holiday rally and parade, traditionally one of the biggest in the U.S., while Obama traveled to Boston to announce a paid sick leave requirement for government contractors.
"There wouldn't be a single basic right from a 40-hour week to sick leave" if not for labor, said Biden, who walked the parade route with Richard Trumka, president of the AFL-CIO labor federation. "You built the middle class. Build labor, we build America. Build labor, we build the middle class."
The labor courtship, an annual ritual among Democrats, comes 14 months ahead of the next U.S. presidential election, as contenders for the party's nomination campaign on pledges to address income inequality. On his flight to Boston, Obama was joined by labor union presidents including Randi Weingarten of the American Federation of Teachers and Arturo Rodriguez of the United Farm Workers of America.
Leo Gerard, president of the United Steelworkers, said Biden has "been the voice of working people. He's fought with us and for us time and again. He has never ever let us down."
Biden, 72, who has twice before run for president, said last week that he is assessing "whether my family and I have the emotional energy to run" following his son Beau's death in May from brain cancer.
Declared Candidates
Several declared candidates for the Democratic nomination scheduled Labor Day events. Hillary Clinton had stops in Iowa and in Illinois, while Bernie Sanders, Martin O'Malley and Lincoln Chafee listed in events in New Hampshire. Clinton, Sanders and O'Malley met Sunday in Iowa behind closed doors with members of the American Federation of State, County and Municipal Employees, whose endorsement they're seeking.
At the same time, labor union members' approval of Obama stands 1 percentage point above its all-time low -– and the administration may find it challenging to boost that rating at a time it is redoubling efforts to seal a trade deal with Pacific Rim nations.
In Pittsburgh, parade-watchers chanted "Run, Joe, Run" at the vice president as he passed along the route, where some spectators carried handmade Biden campaign posters and others displayed support for Sanders. In Boston, many of the union activists attending the Obama speech were wearing "Bernie 2016" buttons showing their support for the Vermont senator.
Wage Equity
Addressing members at United Steelworkers headquarters after the parade, Biden said it's up to politicians to "holler more loudly than we have" about wage equity and tax fairness. He acknowledged similarities to the message that has won union support for Sanders, crediting him with "doing a hell of a job, by the way."
When a member of the audience shouted "Biden for president!" he answered, "You gotta talk to my wife about that," then quipped with emphasis, "I gotta to talk to my wife about that."
Under Obama's executive order, which he signed on his flight to Boston, about 300,000 workers employed by government contractors will gain paid sick leave. The president chose the city to highlight his order after it adopted a parental-leave policy giving both men and women as much as six weeks paid time off in the year after childbirth or adoption and Massachusetts enacted a law letting workers accrue up to 40 hours of paid sick leave in a year.
Help Contractors
"Right now we're the only industrialized nation on earth that does not guarantee paid maternity leave," Obama said, adding that the move would help contractors recruit and retain workers.
About 44 million people in the U.S. don't have paid sick time off, said Cecilia Munoz, director of the White House Domestic Policy Council, though covering most of them requires a change in law. Obama's order will cover companies including Lockheed Martin Corp. and Boeing Co., the top two government contractors. It will apply to new federal contracts starting in 2017. Workers will be able to use the time if they are ill or to care for sick family members.
A Gallup poll released Sept. 1 found 52 percent of union members approve of Obama's job performance. That's down from 56 percent in the first quarter of 2015 and one point above his all-time low of 51 percent.
'More Critical'
Sarita Gupta, executive director of Jobs With Justice, a Washington-based group aligned with labor, said that while unions have been clear that stances on trade may affect support for candidates, "labor will be more critical of candidates based on a host of important issues that address the growing inequality and help to get our economy working for everyone."
Harley Shaiken, a professor of labor relations at the University of California, Berkeley, said that between the president and unions, "It has been a fraught relationship over the past six or seven years," while "in the past year or so, Obama has come out swinging in labor's favor."
Obama delighted the labor community this year when he expanded overtime pay eligibility for millions of workers by raising the pay threshold for workers who must be paid more for working more than 40 hours a week. That followed executive orders banning retaliation for government contractors who discuss pay and discrimination against gay or lesbian people. In contrast, unions have pushed back against Obama's plan to make a trade agreement with Japan and other Pacific Rim countries a legacy of his presidency, saying the agreement would hurt U.S. workers by sending jobs overseas.
Before it's here, it's on the Bloomberg Terminal.
LEARN MORE