Poll: Bernie Sanders Surges Ahead of Hillary Clinton in New Hampshire
There's a new Democratic front-runner in the Granite State, according to a new poll.
by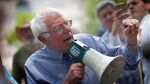 Democratic presidential candidate Bernie Sanders has pulled ahead of one-time front-runner Hillary Clinton in an NBC/Marist poll of New Hampshire voters out Sunday. 
Forty-one percent of potential Democratic voters polled said they selected Sanders, 32 percent chose Clinton, and 16 percent said they would support Vice President Joe Biden. When pollsters excluded Biden, who has yet to decide whether he will run, Sanders' lead over Clinton grew to double digits—49 percent to 38 percent.
The Vermont senator's support is up markedly since July's NBC News/Marist poll. In that survey, Sanders trailed Clinton by a margin of 47 percent to 34 percent. New Hampshire will hold the nation's first presidential primary of 2016, following the Iowa caucuses. 
The results come as Sanders continues to draw large crowds on the campaign trail, and as Clinton remains under scrutiny for her use of private e-mail while at the State Department.
Republican Race
The same poll saw some movement in the Republican field, as well. Front-runner Donald Trump continued to lead the pack with 28 percent support of likely Republican voters, up from the 21 percent he received in July. Ohio Governor John Kasich, who had received just 7 percent support in July, moved up to second place with 12 percent. Retired neurosurgeon Ben Carson took third with 11 percent, a 5 percentage point gain from July.
On the down slope, Wisconsin Governor Scott Walker now polls in ninth place in the Granite State, with just 4 percent of the vote. That's down from 12 percent support in July. Former Florida Governor Jeb Bush lost 6 points from his July numbers, and now sits in fourth place with just 8 percent support. 
The poll reached 966 people from Aug. 26 to Sept. 2. The margin of error was plus or minus 3.2 percentage points. 
Before it's here, it's on the Bloomberg Terminal.
LEARN MORE