Carly Fiorina Says U.S. Has 'Done Its Fair Share' on Syrian Refugees
The Republican presidential candidate called images of the refugee crisis "heartbreaking," but does not think that the U.S. should open its doors wider.
by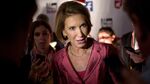 Republican presidential candidate Carly Fiorina on Sunday said the United States should not make exceptions to take in a greater number of Syrian refugees. 
"Well, those pictures are unbelievably heartbreaking," the former Hewlett-Packard CEO said on CBS's Face the Nation, discussing the images of Europe's refugee crisis that circulated widely this past week, including one of a young Syrian boy who had drowned in the Mediterranean sea.
"The United States, I believe, has done its fair share in terms of humanitarian aid," Fiorina said. "Certainly, the United States has not led, as I indicated earlier. I think the United States, honestly, sadly, cannot relax our entrance criteria. We are having to be very careful about who we let enter this country from these war-torn regions to ensure that terrorists are not coming here."
The U.S. has taken in approximately 1,000 Syrian refugees this year, the Associated Press reported. An estimated 4 million Syrians have been displaced in the uprising against the government of President Bashar al-Assad, with the bulk fleeing to neighboring countries, according to Amnesty International. The refugees have flooded across Europe in recent days, with Austria accepting more than 12,000 migrants by Sunday, and Germany welcoming in several thousand more. 
Also on Sunday, fellow Republican candidate John Kasich said responsibility for dealing with the refugee crisis lies primarily with Europe, but did not agree that the U.S. can't take more refugees. 
"I think we do have a responsibility in terms of taking some more folks in," the Ohio governor said, but added that "this is fundamentally an issue that Europe has to come to grips with."
Kentucky Senator Rand Paul expressed similar ideas last week, telling CNN, "We are a welcoming nation, and we have accepted a lot of refugees, and I think we will continue to do so. But we also can't accept the whole world, so I think there are some limits."
(Correction: An earlier version of this story misspelled the name of Syrian President Bashar al-Assad.)
Before it's here, it's on the Bloomberg Terminal.
LEARN MORE