Scott Walker's Labor Day Weekend: Union Bike and Anti-Union Message
The anti-union label that brought the Wisconsin governor headlines and donors hasn't been doing the trick on the campaign trail.
by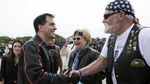 For Scott Walker, Labor Day is a reminder of the issue that brought him to the national stage.
The Wisconsin governor, who will spend the holiday weekend riding a union-made motorcycle across New Hampshire, won a national reputation for his confrontations with organized labor. But the narrative that brought him headlines and donors hasn't provided a white-hot issue on the campaign trail. At a time when organized labor is already losing membership, its clout doesn't appear to be a top national priority for most Republicans.
In the first debate on Aug. 6, the word "union" was used just three times, and only once by Walker, in his closing statement.
"I took on the big government union bosses, and we won," said Walker, who has seen his state and national poll numbers fall as Republican front-runner Donald Trump has risen. "They tried to recall me, and we won. They targeted us again, and we won."
The reference was to Walker's 2011 fight with public-sector unions, as well as his 2012 recall and 2014 general election victories, both contests that included heavy union spending against him. His ability to remain "unintimidated" in those battles has become a central theme of Walker's campaign.
Walker's plans for Sunday and Monday call for riding a rented Harley-Davidson through all 10 New Hampshire counties. It will be his seventh trip to the state this year and fourth since launching his campaign July 13. On a weekend that will see top Democratic politicians embracing unions, Walker is expected to highlight his experience in taking them on, including the threats he received and the 100,000 protesters he faced at the peak of his battle.
Walker marked the start of Labor Day weekend with a Friday evening tweet recounting his victory over his state's public sector unions: 
That doesn't sit well with union leaders in Walker's home state. "He should be ashamed of what he has done and should not be proud to sit on that Harley-Davidson that was made by hard working men and women," said Stephanie Bloomingdale, secretary-treasurer of the AFL-CIO in Wisconsin.
But it's not clear that the issue has much traction in the places where Walker needs it. In New Hampshire, where Walker this weekend will be emphasizing his victories over organized labor, union membership has continued to drop, a reflection of national trends. In 2014, 9.9 percent of those employed there were members of unions, according to the Bureau of Labor Statistics.
Walker supporters say his willingness to fight is more important than the issue of organized labor itself.
"I don't think people are going to flock to him just because he took on the unions," said Iowan Matt Giese, the co-owner of metal fabrication company Dubuque who is backing Walker. "I don't think it's a huge issue, but it's something that Republicans like and it shows that he's a fighter."
So far, however, it's not helping Walker in the polls. In the most recent Bloomberg Politics/Des Moines Register Iowa Poll, Walker was backed by just 8 percent of likely caucus-goers, less than half what he recorded in the last Iowa Poll in late May. A poll released Thursday by Monmouth University showed Walker had slipped to 3 percent nationally.
"I haven't lost faith yet," Giese said. "I think there is a ways to go and once the money from his super PAC starts coming in, it will change things."
The day after Labor Day, a super political action committee backing Walker is expected to start a roughly $7 million advertising campaign on his behalf in Iowa.
Before it's here, it's on the Bloomberg Terminal.
LEARN MORE