Big Oil Pulls Back From Washington?
Despite a long wish list, the industry is slashing lobbying spending amid the oil downturn.
by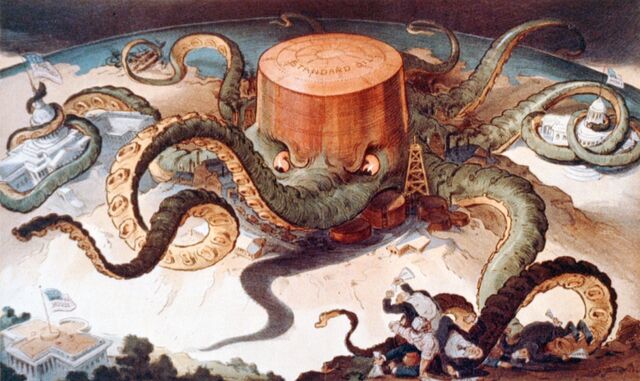 As Americans preparing for Labor Day weekend trips enjoy low gas prices, they might not fail to appreciate another effect of the plummeting price of oil.
It appears to be crimping the style of one of Washington's biggest political players.
The oil industry's influence has been legendary ever since Standard Oil was caricatured as an octopus in an early 20th century cartoon. And in its current incarnation, it has no shortage of demands for Washington: producers are pushing for permission sell more of their wares outside of the U.S.; for more territory to drill in the Arctic and offshore. They're also battling new regulations on fracking, methane, ozone and carbon emissions; and don't forget the Keystone XL pipeline.
Yet with oil prices plummeting, drillers have a lot less money to sink into lobbying.
Spending by exploration and production companies dropped 25 percent last quarter from a year earlier, according to an analysis by Jorge Uquillas, an analyst at Bloomberg Government. Oilfield services companies spent 20 percent less, integrated majors trimmed 4 percent, and refiners cut 5 percent.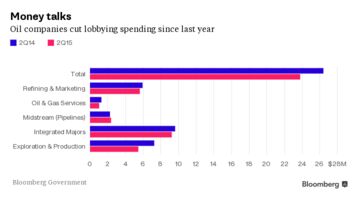 The oil and gas industry as a whole spent $23.8 million in the second quarter, a 10 percent decrease, the disclosures data show.
The retreat is also evident in some lobbying groups' waning member rolls. The National Propane Gas Association and America's Natural Gas Alliance shrank 13 percent and 31 percent, respectively, according to archives of their websites.
"It was just simple belt-tightening," said Kelly Swan, a spokesman for WPX Energy Inc., an Oklahoma producer that dropped out of the natural gas group. "We've done a lot of belt-tightening over the past year."
While lower prices have members looking for ways to cut costs, America's Natural Gas Alliance is still aggressively pursuing its political priorities, Dan Whitten, a spokesman, said. Consolidation, not prices, accounts for the decrease at the propane association, according to spokesman Philip Squair.
Larger groups, like the American Petroleum Institute and American Fuel & Petrochemical Manufacturers, stayed steady or grew.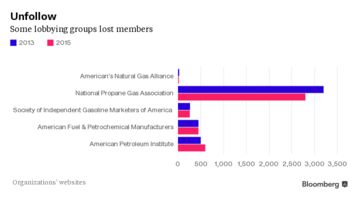 Oil dropped 51 percent in the past year, squeezing drilling companies that binged on debt when prices were higher and investors more enamored. Cash flow per share in a Bloomberg index of North American producers dropped 42 percent last quarter from a year earlier.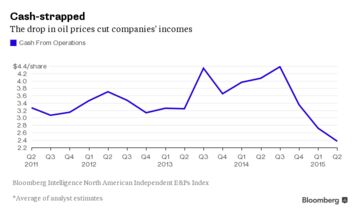 Before it's here, it's on the Bloomberg Terminal.
LEARN MORE