Kentucky Clerk Jailed for Contempt Over Refusal to Issue Marriage Licenses to Gay Couples
Kim Davis was taken in to custody following a Thursday hearing.
by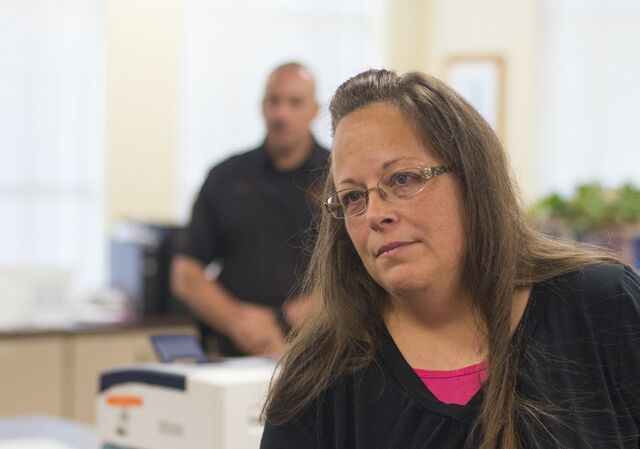 Kim Davis, the Kentucky clerk who cited her Christian religious beliefs when refusing to issue marriage licenses to gay couples, was jailed for contempt of court on Thursday. 
U.S. District Court Judge David L. Bunning ordered Davis taken into custody following a hearing in the town of Ashland, after she stood by her assertion that "marriage is between one man and one woman," and vowed not to issue licenses to same-sex couples.
"The court cannot condone the willful disobedience of its lawfully issued order," Judge Bunning said during a Thursday hearing. "If you give people the opportunity to choose which orders they follow, that's what potentially causes problems."
The U.S. Supreme Court ruled in June that the constitution guaranteed the right to marry for same-sex couples, and the judge told Davis, who is an elected official in Rowan County, that she would be released as soon as she agreed to heed the court's order to issue licenses to gay couples.  
As news of Davis' incarceration spread, politicians began weighing in on the matter. 
Kentucky senator and GOP presidential candidate Rand Paul decried what he saw as a heavy-handed action by the judge. 
"I think it's absurd to put someone in jail for exercising their religious liberty. If you want to convince people that same-sex marriage is something that is acceptable, I would say try to persuade people," Paul told CNN, adding, "I think this is a real mistake."
Former Arkansas Governor Mike Huckabee saw the issue in terms of protecting "religious liberty." 
Another candidate vying for the evangelical vote in the Republican primary, Texas Senator Ted Cruz, condemned the judge's actions as "persecution."
Democratic front-runner Hillary Clinton did not agree with the two Republicans. 
That sentiment was echoed at the White House. 
"Every public official is subject to the rule of law," White House press secretary Josh Earnest told reporters. "No one is above the law. That applies to the president of the United States and it applies to the clerk of Rowan County, Kentucky, as well."
Before it's here, it's on the Bloomberg Terminal.
LEARN MORE