Joe Biden to Jewish Leaders: 'Read My Lips' on Iran Deal
The vice president says he went from being a skeptic to a believer.
by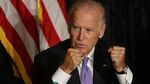 One day after President Barack Obama appeared to have secured enough official commitments in Congress to prevent the Iran nuclear accord from being derailed, Vice President Joe Biden continued to defend the deal in appearances before Jewish audiences.
Biden told Jewish leaders gathered Thursday morning at the David Posnack Jewish Community Center in Davie, Florida, that he had been "sort of the skeptic in the administration" who needed convincing before buying into the deal. But the former head of the Senate Foreign Relations Committee said he now believes it will make the U.S. and Israel safer, not weaker.
"If we can take the nuclear bomb off the table, it's better dealing with those guys than if we're dealing with those bad guys and the nuclear bomb is on the table," he said.
On a two-day campaign-like swing on behalf of the president's foreign policy program and to raise money for Democratic candidates as he mulls whether to make a late entry into the contest for the White House, Biden was warmly welcomed to the Jewish Community Center by the local congresswoman, Debbie Wasserman Schultz, the chairwoman of the Democratic National Committee.
Wasserman Schultz, who has not yet said whether she will support the deal, called Biden a "mensch" and "one of us" in "just about everything but blood." She also said he "could not be more well-versed or more of an expert" on the subject of Iran and nuclear weapons.
In exhaustive and sometimes rambling detail, Biden talked about centrifuges, what he learned from arms control negotiations dating back to the days of the Soviet Union, and international norms for civilian nuclear power programs.
Biden also said it is "simply not true" as some opponents suggest, that the deal gives the international community no ability to know what's going on in Iranian military facilities. Provocatively, he invoked former President George H.W. Bush. "As one person said: Read my lips," the vice president said. "Not true. We can."
"I take a backseat to no one" on Israel advocacy, he said. "I may not be Jewish, but I was raised by a righteous Christian" and "were there no Israel we'd have to invent one."
The vice president also is expected to promote the deal again later in the day when he delivers a foreign policy lecture at Ahavath Achim Synagogue in Atlanta.
With Senate Democrats holding firm to sustain a presidential veto if the Republican majority passes a resolution disapproving of the deal, the administration's next goal is preventing opponents from getting the 60 votes needed for such resolution to make it to the Senate floor. Only two Senate Democrats, Charles Schumer of New York and Robert Menendez of New Jersey, have publicly announced opposition to the agreement.
The Republican-led opposition in Congress has until the end of Sept. 17 to act on the deal, reached in July by the U.S. and five other world powers with Iran.
Israeli officials said Prime Minister Benjamin Netanyahu will continue his campaign against the deal. His government, and allies including the American Israel Public Affairs Committee, say the deal gives Iran too much economic relief and doesn't do enough to shut down the possibility Iran will develop nuclear weapons. The deal eases economic sanctions again Iran in exchange for curbs to its nuclear program.
In his remarks, which were expected to run 15 minutes but went three times longer, Biden acknowledged the persistent concerns from some Jewish Americans about the pact, whether it actually makes a nuclear Iran more likely in another decade, and whether Iran will use sanctions relief to continue to support terrorism.
Biden described Iran's supreme leader, Ayatollah Ali Khamenei, as "a guy who has an existential problem'' with a population chaffing under economic hardship. "He's still the most powerful figure" in Iran, Biden said, and "I'm not suggesting there's about to be a revolution." But Biden said he's is betting against Iran going back on its end of the agreement because it would trigger a backlash by the Iranian people. Khamenei "can't afford it," he said.
The vice president was joined by more than 30 Jewish community activists, including rabbis and several influential Democratic Party donors. He did not mention and was not asked about the 2016 election during the public remarks. The press was escorted out of the room ahead of a question-and-answer session that followed.
Aware of his propensity to run on and go off script, Biden laughed at one point that his national security adviser, Colin Kahl, who was in the room, was probably thinking "that's not what I wrote down for you" but that "I think it's important to speak plainly."
Biden cut himself off at one point more than 30 minutes in, saying, "I'm going too long," only to keep going. A few times, he said he wanted to make one last point. This eventually became a laugh line.
Before it's here, it's on the Bloomberg Terminal.
LEARN MORE