On Iran Deal, Cory Booker Chooses Obama Over Rabbi
Kathleen Miller and Terrence Dopp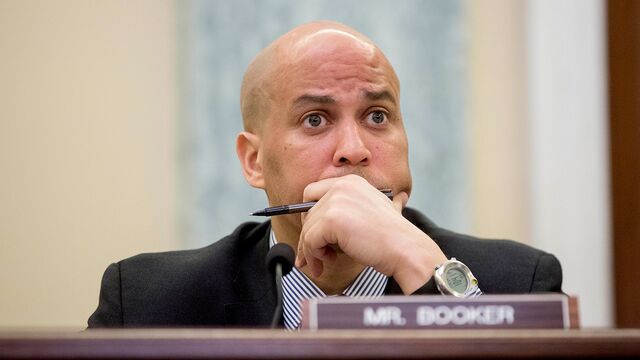 Senator Cory Booker, a New Jersey Democrat torn between his 20-year friendship with a rabbi opposed to the Iran deal and his loyalty to President Barack Obama, said he will back the Iran nuclear agreement.
Senate Democrats Mark Warner of Virginia and Heidi Heitkamp of North Dakota also said they support the deal. That brings the Senate supporters to 37, just four short of the number that would be needed to block a vote on a resolution of disapproval in the Republican-controlled chamber.
Booker, the only black Democrat in the U.S. Senate, was seen as being in one of the toughest spots over this month's planned vote on a resolution disapproving the agreement.
He has faced a barrage of advertising, lobbying and personal appeals, including some from Rabbi Shmuley Boteach, whom he has known since he studied at Oxford University in the U.K. more than 20 years ago.
Booker chose to support Obama, announcing Thursday he would support the accord. He called the accord "the better of two flawed options" in an article posted online.
"I nonetheless believe it is better to support a deeply flawed deal, for the alternative is worse," Booker said. "Thus I will vote in support of the deal. But the United States must recognize that to make this deal work, we must be more vigilant than ever in fighting Iranian aggression."
'Troubling and Tragic'
Boteach called Booker's position a "troubling and tragic choice" in an e-mailed statement.
"How on earth could he participate in making Iran's nuclear program kosher amid their never-ending pledge to carry out a second holocaust?" Boteach said. Still, he said Booker is his "soul-friend" and said that no policy issues would "get personal or come between us."
The support from Booker, Warner and Heitkamp came after Obama had already secured enough Senate support to protect the deal. Even if the Republican-led Congress passes a resolution disapproving of the accord, Obama has said he would veto such a measure, and he now has enough support in the Senate to block an override.
The agreement would ease economic sanctions on Iran in exchange for curbs on the country's nuclear program.
Warner, in a statement, described his decision as "between accepting an imperfect deal or facing the serious ramifications if Congress rejected a deal that has the support of the rest of the world."
'Weaker Points'
"While I choose to support the deal, I am not satisfied with it as a final measure and will support efforts to shore up its weaker points," including ensuring that Congress retains the ability to approve sanctions against Iran for actions like support for terrorism, he said.
Senator Barbara Mikulski, a Maryland Democrat who isn't seeking re-election, on Wednesday became the 34th Senate vote Obama needs to sustain the veto he has promised of a resolution rejecting the deal.
While the House has more than the 230 votes it needs to pass a resolution disapproving of the deal, it isn't yet clear whether the Senate has the 60 votes it needs to advance the legislation. Assuming all 54 Republicans oppose the deal, they would need six Democrats to join them in voting for the resolution of disapproval.
So far only two Senate Democrats, Chuck Schumer of New York and Senator Bob Menendez of New Jersey, have said they would do so.
Josh Earnest, White House press secretary, said Thursday that it is a "significantly higher standard" to gain enough support in the Senate to prevent a vote on the legislation altogether.
"We certainly have been pleased with the significant momentum that we have been able to build up," Earnest said.
Before it's here, it's on the Bloomberg Terminal.
LEARN MORE