Can You Tell the Difference Between '90s Jeb Bush and Donald Trump?
Jeb Bush takes to social media to call Donald Trump a RINO.
by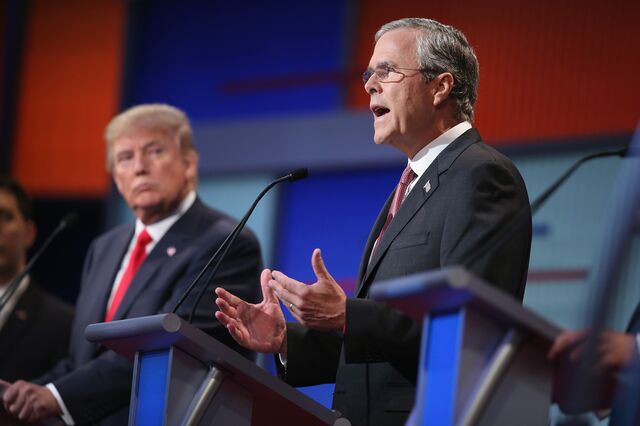 Two years ago, former Florida Governor Jeb Bush said his decision about whether to run for president would be "based on, 'Can I do it joyfully?' because I think we need to have candidates lift our spirits." 
The joyful part of the Bush campaign ended around the same time Bush grew tired of being called a "low-energy" candidate by billionaire rival Donald Trump. This week, the two have traded attack ads, with Trump accusing Bush of being close to Hillary Clinton and soft on immigration and crime, and Bush pointing out Trump's past liberal beliefs.
The truth is that Trump and Bush have a very similar problem. Back in the early 1990s, when Bush was running for governor of Florida, he had a reputation for being too conservative—and he had to tone down his rhetoric in 1998, after losing in 1994. Now he's being painted as too soft on immigration, and too liberal.
Trump, meanwhile, has indeed held many of the liberal views Bush has accused him of holding, including supporting single-payer health care. On Wednesday, the Bush campaign released a quiz asking what type of candidate voters want. The quiz was also advertised to people who like Trump on Facebook:
For voters who really want to test their ability to tell Trump and Bush apart, here's another quiz, this time with old quotes from both candidates.  
Before it's here, it's on the Bloomberg Terminal.
LEARN MORE