The Science Behind Trump-Mania
In the new Bloomberg Politics/Des Moines Register Iowa Poll, GOP caucus-goers reveal what draws them to Donald Trump.
by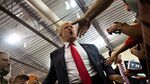 Donald Trump's startling transformation from reality TV star to serious presidential contender in the eyes of some key Republican voters happened because he's been able to sell himself as the straight-talker most candidates aspire to be, a Bloomberg Politics/Des Moines Register Iowa Poll shows.
A look underneath the poll's headline numbers, which put Trump atop the GOP field in the state that holds the nation's first nominating caucuses on Feb. 1, suggests the New York real estate mogul is making the sale in large part because of qualities that aren't part of the average political résumé. Everything that conventional wisdom says would torpedo his candidacy is instead making it stronger. 
Penchant for brash pronouncements: Thirty-seven percent of Iowa's likely Republican caucus-goers say the billionaire's willingness to "tell it like it is" is the most attractive feature of his candidacy, according the poll. 
Lack of political experience: Trump's next best-scoring assets, at 18 percent each, were his success in business and the fact he's not a career politician.
Ostentatious lifestyle: His outsized wealth came next in the list of qualities that voters find attractive, with 12 percent saying they like it because it might free him from outside influence. Seven percent said Trump's most attractive quality was that he'll do what he says he'll do.
"I think he would be a good change to have the government run more like a business," said Trump supporter Garrison Reekers, 43, a deputy sheriff from Belle Plaine, Iowa, who participated in the poll. "He can afford to pay his own way so he doesn't have to take special interest money."
Read the poll questions and methodology here.
For now, Trump's backers in Iowa seem to be able to see just about whatever they want to see in him. About a third of his supporters see a moderate, the poll shows, while almost half see a conservative. Some see reflections of themselves.

"Many Republican caucus-goers are anti-immigrant, incredibly angry, don't like Republicans in Congress, and don't think Obama was born in the United States," said Ken Goldstein, professor of politics at the University of San Francisco and polling and advertising analyst for Bloomberg Politics. "Those attitudes line up with one of the candidates, Donald Trump."
About a third of those likely to attend the Republican caucuses, 35 percent, said they don't believe President Barack Obama was born in the U.S. Prior to announcing his presidential bid in June, Trump was perhaps best known in politics for voicing skepticism about Obama's birthplace. Those and other challenges to Obama's nationality prompted the president to release his birth certificate during his 2012 re-election bid, confirming he was indeed born in Honolulu, Hawaii.
Among Trump's supporters, the share who say they don't believe Obama was born in the U.S. grows to 46 percent. (Subgroups like these have a larger margin of error than the overall margin of plus or minus 4.9 percentage points.)
"I think he is hiding a lot about it and there are too many questions," Reekers said of the president's nationality. "It just isn't clear cut."
Although the poll showed Trump executing a remarkable summer turnaround—turning his favorability ratings from negative to positive and halving the percentage of Iowans who say they'd never vote for his candidacy—history teaches that the Republican front-runner shouldn't count on an Iowa win just yet amid such a large and unsettled field. The summer before Iowa's last presidential caucuses, former Massachusetts Governor Mitt Romney and then-Minnesota Representative Michele Bachmann sat atop the Iowa poll at 23 percent and 22 percent. Romney ultimately finished a close second in Iowa, while Bachmann ended up sixth, exiting the race the following morning.

Trump's religious credentials are a potential area of vulnerability, according to the poll, which found that nearly 40 percent of likely Republican caucus participants say "Christian conservative" is a better label for them than "Tea Party," "business-oriented establishment Republican," or "liberty movement."
Poll participants were told that Trump says he's a Christian and goes to church, while also being informed that he's said he's never asked God for forgiveness for his sins, a central tenet of Christian faith.

About a third of likely Republican caucus-goers, 36 percent, said the forgiveness issue bothers them, while 57 percent said it doesn't. Just 16 percent of Trump's supporters said they were troubled by it. Among Christian conservatives, however, his statement was bothersome to nearly six in 10.
Trump's supporters are willing to look past some of their candidate's weaknesses because they feel like he's in their corner, Goldstein said. That sense is reflected in answers to a question about whether Trump cares more about "people like you" or "people like Donald Trump." Almost three-quarters of those backing Trump say he cares about people like them, while the larger group of likely Republican caucus-goers is evenly split.

Trump's reputation as a hard bargainer in the business world appears to be resonating, based on the poll's question about what voters see as his strengths and weaknesses. Eighty-eight percent said he would be strong on international trade, the highest level of any topic.
Creating jobs closely followed at 87 percent, while improving economic conditions for the middle class came in at 84 percent. Dealing with illegal immigration (66 percent), tackling problems with Social Security and Medicare (65 percent), and serving as commander-in-chief (65 percent) all polled closely together, followed by his ability to compete at debates (62 percent).

"He's been successful in business, so I think he can get this country back on track economically," said Trump supporter David Smith, 56, a disabled truck driver from Winterset, Iowa. "I think he will be tough on the illegal aliens that we don't need who are using up all the resources for regular Americans."
Those planning to attend the Republican caucuses were less certain about Trump's ability to negotiate with hostile nations, with 56 percent listing that as a potential strength. That was followed by handling conflicts in the Middle East (55 percent), understanding Iowa (46 percent), working with Congress to get things done (43 percent), and improving race relations (42 percent).
The survey, taken Aug. 23-26 by the West Des Moines-based Selzer & Co., included 400 likely Republican caucus participants. 

Before it's here, it's on the Bloomberg Terminal.
LEARN MORE