In Alaska, Obama Obliges Some Critics and Takes a Hike
Justin Sink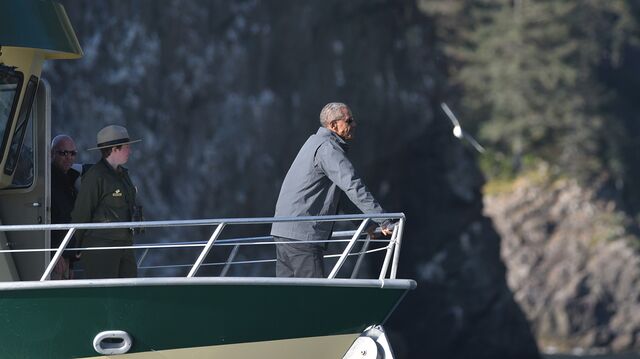 For six years, some Republicans in Washington have urged President Barack Obama to take a hike. On Tuesday he obliged them.
The president began his second day in Alaska with a trek through the Kenai Fjords National Park and the Exit Glacier, a four-mile wide ice sheet that has retreated about 1.25 miles in the last 200 years as global temperatures have risen, according to the National Park Service. The White House intended Obama's walk to illustrate his drive to seal a global agreement to limit carbon emissions in December.
"This is as good of a signpost of what we're dealing with when it comes to climate change as just about anything," the president said as he stared across a half-mile expanse that just decades ago had been covered by ice.
The president said signposts along his hiking trail noting how far the glacier once stretched served as a vivid reminder of the impact of climate change. And, after a long, quiet pause to stare at the remainder of the ice sheet, urged action to slow the planet's rising temperatures.
"It is spectacular," Obama, wearing sunglasses and a light jacket under a cloudless sky, told the assembled reporters. "We want to make sure that our grandkids can see this."
Retreating Glacier
Debroah Kurtz, a Park Service employee, said the glacier had retreated 187 feet in the last year.
"Climate is the primary driver for the retreat of glaciers and the primary driver for ice loss," she said.
Later Tuesday, Obama will board a Coast Guard cutter and tour the park from the sea. Also on Tuesday he'll tape a segment with celebrity survivalist Bear Grylls for an episode of NBC's "Running Wild" to broadcast later this year. White House press secretary Josh Earnest told reporters traveling with the president that "talking about the impact on climate change on some of these lands is something that the president will do in the context of this interview."
Unorthodox Approach
Without giving any details, Earnest said the Secret Service had nixed some of the producers' suggestions for the show. And if the preceding hike was any indication, Obama will be well-protected in the wild. A pair of heavily-armed Secret Service agents preceded Obama as he walked through the national park, while off-road vehicles with additional supplies trailed the president along the path.
Obama will nonetheless enjoy an "an admittedly unorthodox but legitimately interesting" experience, Earnest said.
The White House is trying to rally support for Obama's climate-change policies ahead of a December United Nations summit on the issue in Paris. During a meeting with more than a dozen foreign ministers Monday in Anchorage, the president urged world leaders to reach agreement "to protect the one planet we've got while we still can."
The administration and other world powers say they want an accord at the UN summit that will prevent average global temperatures from rising more than 2 degrees Celsius.
Allies Critical
Some of Obama's natural allies on climate change have criticized his Alaska trip because it comes after his administration granted Royal Dutch Shell Plc a final permit to drill in the Arctic's Chukchi Sea for the first time in more than two decades.
"It's time for the president to stop talking about urgency, and stop approving extreme fossil fuel projects like Shell's Arctic drilling plans," Greenpeace activist Mary Nicol said in a statement. "The approval of that very project undermines every other bold move the president has made on climate change."
As Obama played tourist on Tuesday, the White House announced a new measures to open access to the Arctic for U.S. tourists and businesses.
The administration asked Congress to speed the acquisition of a new heavy-duty Coast Guard icebreaker from 2022 to 2020 and begin planning for the acquisition of additional ships that could help maintain yearlong access to polar regions. The U.S. fleet is down to the equivalent of two functional icebreakers, which are crucial to open icy seas to commercial and research vessels.
Arctic rival Russia, by comparison, has forty icebreakers and another eleven planned or under construction, the White House said.
The federal government will also chart newly opened waters in regions that could be used by cruise ships operating in the Aleutian Islands and Bering Strait. While tourist traffic in the region has increased -- including passenger cruises offered by TUI AG -- many cruise lines are reluctant to enter the region without updated maps or other infrastructure.
Before it's here, it's on the Bloomberg Terminal.
LEARN MORE