Five Telling Nuggets from Hillary Clinton's New Batch of E-Mail
"Parks and Rec," gefilte fish and delete this e-mail.
by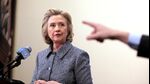 The State Department on Monday night released a new batch of e-mails from Democratic presidential candidate Hillary Clinton's tenure as secretary of state. The dump provides some insight into Clinton's television tastes, but also reveals some information about her attitude toward e-mail. There's also at least one discussion of sensitive information, which Clinton asks be deleted and not forwarded, and there's a moment of confusion with the State Department help desk over her private address. 
Here are some of the best moments: 
1. Burn After Reading 
Several of the e-mails in the dump have information that is now redacted, but one e-mail in particular has raised some questions regarding Clinton's claim that she never sent classified information via e-mail. In it, she asks aide Cheryl Mills and United States Agency for International Development administrator Rajiv Shah not to forward an e-mail she sent them. She also asks them to delete it after reading. 
2. Under the Radar
Clinton's use of private e-mail was apparently not widely known in the State Department. In February of 2010, Clinton got an e-mail from the department's help desk testing to see if it would get bounced back. Clinton forwarded the e-mail to aide Huma Abedin, who explained that, following glitches, someone who had tried to e-mail Clinton contacted the department's help desk. The person who sent the test e-mail didn't even know he was writing to Clinton, Abedin explained. 

3. Knope Problem
In one e-mail from January of 2010, Clinton wished her staffer a happy new year and then got down to brass tacks. She wanted to iron out a few grocery kinks and also what time she should tune in to two shows, both of which she can likely relate to: Parks and Rec and The Good Wife. 

4. Something Fishy
The subject line: "Gefilte Fish." The e-mail content: "Where are we on this?" At first, this e-mail appears to be a mystery. Is Clinton preparing for a State Department seder? Is she trying to decide between the savory and sweet varieties? Fresh or jarred? It turns out, as the Washington Post explained, that in 2010, in the lead-up to Passover, a shipment of frozen carp out of Illinois was prevented from reaching Israel because of of an import duty. Israel eventually did make a one-time exception, and the international gefilte fish crisis was resolved. 

Side note: "Gefilte" means "stuffed" in Yiddish, because the traditional preparation of gefilte fish involves stuffing the ground up fish meat back into the skin of the fish. Mmm mm good!
5. Happier Times
In one e-mail to Democratic Senator Barbara Mikulski of Maryland, Clinton refers to fellow Democratic presidential candidate Martin O'Malley as "our friend Martin." At the time, O'Malley was campaigning to be re-elected governor of Maryland. 

Before it's here, it's on the Bloomberg Terminal.
LEARN MORE