Awaiting Hillary Clinton on 'Parks and Rec': The Lovable Joe Biden
The show was not unfriendly territory for Clinton, yet there it nagged, a reminder of Biden's hold on popular imagination.
by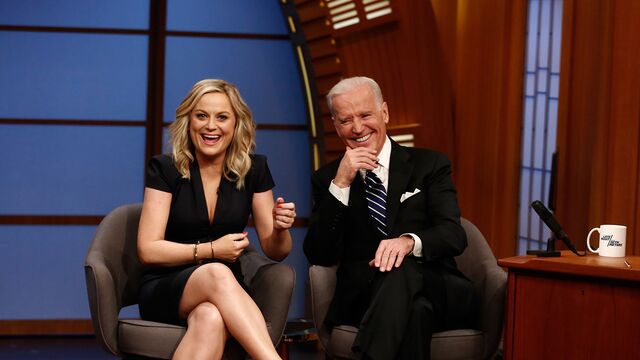 Maybe all Hillary Clinton wanted to do was escape from politics for half an hour.
Even there, Joe Biden lurked.
It was January 2010, and Clinton asked an aide what time the NBC comedy Parks and Rec aired, according to e-mails released by the State Department on Monday night.
Awaiting Clinton in the next episode, if she watched it, was the ebullient city parks official Leslie Knope played by Amy Poehler, defining her ideal man: One with "the brains of George Clooney in the body of Joe Biden."
The show was not unfriendly territory for Clinton or the feminists she hopes to turn out next year. Her portrait hung in Leslie's office as usual. Still ahead was the instantly beloved line in which one of Leslie's young campers showed off a mug she made, a Gertrude stein.
Still, there it nagged, a reminder of Biden's unique hold on popular imagination, one Clinton has never quite sustained on a mass scale. Not just likeable, but loveable.
By the end of this month, Biden, with favorability numbers roughly the opposite of Clinton's—that is to say, above water—is expected to decide whether to run against her.
Parks didn't dare forecast the outcome of the 2016 election, with or without Biden in the race. In March, ahead of Clinton's candidacy announcement, show creator Mike Schur explained why they never managed to land her as a guest star (as they did with Biden a few seasons after Leslie's Clooney quip).
"That became impossible once we jumped to 2017," Schur said, "because we would've had to have answered a question that she probably wouldn't have wanted us to even pose at this point."
Before it's here, it's on the Bloomberg Terminal.
LEARN MORE