Sanders Within Striking Distance of Clinton in Iowa
The latest Bloomberg Politics/Des Moines Register Iowa Poll shows concerns about Clinton, enthusiasm for Sanders, and the possibility of Biden roiling the Democratic field.
by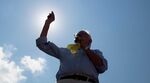 Hillary Clinton's once-prohibitive advantage in Iowa has slipped enough to jeopardize her front-runner status and Bernie Sanders has moved to within striking distance, revealing a Democratic presidential field in unexpected flux as Vice President Joe Biden mulls whether to make a late entrance into the race.
The results of the latest Bloomberg Politics/Des Moines Register Iowa Poll, released Saturday, show Clinton is now the first choice of 37 percent of likely Democratic caucus-goers in the state where the first ballots of the presidential contest will be cast early in 2016. She's followed by Sanders at 30 percent and Biden at 14 percent. It's the first time the poll has had Clinton's support under 50 percent.
In May, the Iowa Poll put Clinton, a former secretary of state, U.S. senator and first lady, at 57 percent, Sanders at 16 percent, and Biden at 8 percent.
"It looks like what people call the era of inevitability is over," said J. Ann Selzer, president of West Des Moines, Iowa-based Selzer & Co., which conducted the poll. "She has lost a third of the support that she had in May, so any time you lose that much that quickly, it's a wake-up call." 
Related:
The decline in Clinton's rating in the poll comes despite her dominance of the local broadcast airwaves. During the past month, she was the only Democratic candidate or political action committee advertising on Iowa broadcast television stations. The heavy Clinton buy, which aired in Des Moines and Cedar Rapids, focused on her biography and her record as a champion of American families. According to Kantar/CMAG data, the Clinton campaign was not only unopposed on the Democratic side, but had more than twice as many spots in the markets where it bought, than all Republican advertising combined.
Biden, who is expected to make a decision about whether to enter the race by the end of September, placed ahead of several declared candidates. If Biden is not in the race, the poll shows Clinton leading Sanders by 43 percent to 35 percent. The margin of error on the full sample of likely Democratic caucus-goers is plus or minus 4.9 percentage points
The biggest surprise is Sanders. Unlike his recent strong showing in New Hampshire polls, his performance here cannot be dismissed as a result of the Vermont lawmaker's regional appeal.

The survey of 404 likely Democratic caucus attendees, conducted Aug. 23-26, shows the self-declared socialist, who serves as an independent in the U.S. Senate, packing a powerful appeal in the nation's rural heartland. In the last two months, Sanders' favorability rating has jumped to 73 percent from 57 percent among likely Democratic caucus-goers.
"On paper, he's not the kind of candidate that traditionally ends up as the nominee," Selzer said of Sanders. "But he's making them feel good about being a Democrat."
Sanders' rise reflects an anti-establishment mood that's playing out across the country in both parties, elevating Republican contenders such as billionaire Donald Trump and retired neurosurgeon Ben Carson while frustrating candidates such as former Florida Governor Jeb Bush, the son and brother of two past U.S. presidents.
Sanders is being buoyed by a coalition that looks uncannily like the one that helped Barack Obama topple Clinton from the front of the Democratic field in 2008: young people, liberals and first-time caucus-goers. Sanders draws 50 percent of the support of likely Democratic caucus-goers under the age of 45, well above Clinton's 27 percent and Biden's 8 percent. Sanders has a five percentage point lead over Clinton among self-described liberals. Among Democrats who plan to attend their first caucus in 2016, Sanders is the first choice of 43 percent, Clinton of 31 percent.
Clinton leads with a small group of self-described conservatives among likely Democratic caucus-goers (44 percent to Sanders's 5 percent); Sanders has a 5-point lead among liberals.
Support for other Democratic presidential contenders—Martin O'Malley, Jim Webb, and Lincoln Chafee—remains in the low single digits, the poll showed. Asked to identify their second choice for president, respondents divided their preferences essentially evenly among Biden, Clinton and Sanders.
Nearly all Sanders supporters—96 percent—said they are motivated mostly by support for him and his ideas rather than by opposition to Clinton. While Clinton posts a slightly higher overall favorable rating than Sanders, 77 percent compared with 73 percent, Sanders counts a considerably higher share who rate him as "very favorable," the most positive of the favorability rankings, at 39 percent compared with Clinton's 27 percent.

"For the last six months, there hasn't been another contender, but recently Joe Biden and, most importantly, Bernie Sanders has shaken things up," said Bryce Rodgers, 28, a software developer from Iowa City, who still counts Clinton as his first choice but says Sanders may yet steal him away.
"People talk about how they're more excited about Bernie Sanders," said Rodgers. He's weighing that versus the question of electability. "It bothers me that she's a little bit more entrenched in the status quo where Bernie has zero problem upsetting the status quo. But on the flip side I think that also could be an advantage" for Clinton in terms of money and organization.
The poll included some good news for Clinton. Her party base still sees her as a formidable nominee. Two-thirds of Democrats surveyed said they are "mostly confident" she can win the White House, compared to one-fourth who described themselves as "mostly nervous" she would lose the general election if nominated.
And the poll results tend to corroborate Clinton's contention that voters are uninterested in the e-mail controversy that has produced months of punishing headlines about her use of a private communications system when she was secretary of state. Most likely Democratic caucus-goers—61 percent—said the controversy over Clinton's use of a personal e-mail server is unimportant to them.  

The survey comes at a time when Clinton's team is growing concerned about both Sanders and Biden and is moving to lock down support in Iowa. Two prominent Iowa Democrats, former U.S. Senator Tom Harkin and U.S. Agriculture Secretary and former Governor Tom Vilsack, endorsed Clinton this month. 
One poll respondent, Sean Bagniewski, who hosted a party for Clinton in his Des Moines backyard in July, said too much is being read into the polling trends and that Clinton remains solidly in the lead and the candidate he is sticking with. "I'm not personally concerned about it," he said.
He said he doesn't believe Biden will ultimately run – and that the spike in Sanders' popularity is predicated on most Democrats' belief that he will not be the nominee but for now is a positive force in terms of nudging Clinton to the left on economic policy and toughening her up for the general election campaign. "When she came to my house, we had 200 people there, she was there for two-and-a-half hours, and she stayed until she personally met everyone there. If that's the campaign she's going to do, which it seems like she is, then she's going to win Iowa."
(Contributing: Ken Goldstein)
Before it's here, it's on the Bloomberg Terminal.
LEARN MORE