Why Rank-and-File Democrats Are Hoping Biden Runs
At the Democratic National Committee meeting in Minneapolis, random interviews reveal much enthusiasm for a Biden run, and a few reservations.
by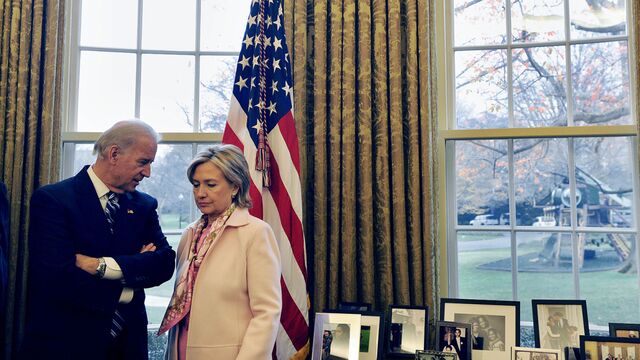 So how open are rank-and-file Democrats to a Joe Biden presidential run? Of the first 14 party stalwarts interviewed at random at the Democratic National Committee meeting in Minneapolis on Friday, only two said they hope he does not enter the race, while eight said they hope he does, and four said they are neutral.
The word of the day, for Biden and for Hillary Clinton supporters, seemed to be "electability."
Biden "is more electable than she is,'' offered Bernie Johnson, a retired attorney who spent most of his career in the Minnesota Attorney General's office. One of the many things he appreciates about the vice president is his resilience. "He lost his first wife and daughter and kept going, and now he's lost his son and kept going!"
Johnson's friend and fellow retiree Brad Janzen, who also hopes Biden gets in the race, laughed that he's a big Trump supporter, too—"because he can't win." But Johnson wasn't so sure about that: "That's what we thought about Reagan!"
Magalie Austin, a New York lawyer, and her husband, J.P. Austin, a radiation oncologist in Miami, described themselves as a "household divided," since he's supporting Clinton and she's holding off, mostly over mounting concerns that she can't win.
"My fear is her electability; she's still got a lot of making up to do in the African American community" after 2008, said Ms. Austin, who is part of that community. "And then there's the youth vote; I'm not so sure they're excited. And there are the scandals, and her negatives are so high."
And Biden? "I would love for him to get in; he's a great alternative to Hillary."
"My fear is that splits the party,'' said her husband, "but he'd be an amazing candidate as well."
Gale Jones Carson, an official with a Memphis utility company, said she likes Clinton but learned her lesson about committing to a candidate too early in 2008, when she went for Clinton "and then Obama got in the race.'' Particularly as an African American, "that was not easy in Memphis. But, once you give your word, you have to stick with it."
Running for president "is grueling, hard, dirty, nasty, and he just lost a son,'' she said of Biden. She, too, lost a son, years ago, and "when I finally got up, I've kept moving ever since, and that's how I survived," she said, adding that maybe a run would be good for him. "But ultimately,'' she hopes the only voice he listens to is in his own gut. "The only thing that matters is what he wants."
Kansas City Mayor Sly James said he's been with Clinton "for quite some time" and though he won't be switching sides no matter who gets in, he does think a Biden run might benefit his candidate: "I think he would sharpen the debate. Secretary Clinton is at her best when she's pushed and challenged, and I'm not sure [a Biden candidacy] is a bad thing, or something to be feared."
Voting no way on a Biden run was Kathryn Manento, of Minneapolis, who's getting ready to launch a small business: "It would be nice—really nice—to see a lady president,'' she said. "It's Hillary's turn, and I hope a lot of old-time Democrats will be loyal."
Of Biden, she said, "I know he's been a good vice president, but he will not generate as much enthusiasm" as Clinton, she feels. "And I'd like to see President Clinton and Chelsea out in front again; she's a darling young lady."
While other candidates have ventured to weigh in on the subject of whether Biden will enter the race—"My two dollar bet is that he does get in," said Lincoln Chafee, who is also seeking the nomination—Hillary Clinton herself is staying mostly quiet on the subject, giving Biden space to make his decision. "I'm not going to comment on differences or similarities," she said on Friday.
Before it's here, it's on the Bloomberg Terminal.
LEARN MORE