Clinton v. Biden? Where President Obama's Original Cabinet Stands
This could give a whole new meaning to "Team of Rivals."
by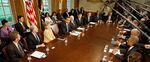 Secretary of Agriculture Tom Vilsack's endorsement of Hillary Clinton this week in a Cedar Rapids Gazette op-ed may have given the Democratic front-runner high-level support in a key state (Vilsack used to be Iowa's governor) and, according to NBC, showed "how difficult a late entry into the 2016 contest would be for" Vice President Joe Biden.
But it's not quite that simple: On Thursday, former U.S. Trade Representative Ron Kirk, who has already maxed out in contributions to Clinton's primary campaign, said he would donate to a Biden run.
In fact, of the 16 members of President Barack Obama's original cabinet, a group that includes both Biden and Clinton, only two (leaving out Clinton herself) are officially on board the Clinton campaign train so far—with another few having given to her campaign. The rest of the so-called "Team of Rivals," so named because Obama composed it with the example of Abraham Lincoln in mind, are uncommitted.
Of the original Obama cabinet, only Vilsack and Secretary of Education Arne Duncan still hold their original positions. Besides Vilsack, Clinton and Biden, they were:
Secretary of the Treasury Timothy Geithner
No endorsement:  Now head of the investment firm Warburg Pincus, Geithner served as an undersecretary of the Treasury under former President Bill Clinton. Named to the top Treasury post by Obama, he stayed until 2013, although, he wrote in a memoir that he offered unsuccessfully to resign in 2010 and suggested Hillary Clinton as his replacement. But he hasn't yet suggested Clinton replace their boss.
Secretary of Defense Robert Gates
No endorsement: Gates served as the CIA director for Republican President George H.W. Bush and as Secretary of Defense for Bush's son, President George W. Bush. At Obama's invitation, he stayed on for the first 18 months of the the Democratic president's administration. Now president of the Boy Scouts and chancellor of William and Mary College, he hasn't  gotten on board anybody's presidential bandwagon so far. "I haven't been particularly impressed, frankly, by anybody at this point on either side of the aisle," Gates told Face the Nation in May, according to CBS. 
Attorney General Eric Holder
No endorsement: Holder served as a deputy attorney general under former President Clinton and took heat for his role in the controversial pardons that Clinton granted as he left office in 2001. He served as Obama's attorney general until returning to work at his old law firm, Covington & Burling, in 2015.  

Secretary of the Interior Ken Salazar
Donation: The former Colorado senator endorsed Clinton's rival—then-Senator Barack Obama—in the 2008 presidential race. After leaving the Cabinet in 2013, he joined the law firm WilmerHale. In June, he gave $2,700—the maximum amount allowable—to Clinton's campaign, according to federal filings.
Secretary of Agriculture Tom Vilsack
Clinton: The former Iowa governor, who briefly sought the Democratic presidential nomination in the 2008 cycle, also backed Clinton over Obama in the 2008 contest.
Secretary of Commerce Gary Locke
Quiet: The former Washington governor got behind Clinton initially in 2008. He left Commerce in 2011 to serve in Clinton's State Department as the ambassador to China, a post he left in 2014. Bloomberg was not able to reach him for comment.

Secretary of Health and Human Services Kathleen Sebelius
Quiet: The former Kansas governor endorsed Obama in 2008. She resigned in 2014 after the bumpy Obamacare rollout. Bloomberg was not able to reach her for comment.
Secretary of Housing and Urban Development Shaun Donovan
Quiet: In 2014, Donovan became the director of the Office of Management and Budget, another cabinet-level position. 
Secretary of Transportation Ray LaHood
Quiet: The former Illinois congressman is a Republican. He served until 2013 and is now a senior policy advisor at the law firm of DLA Piper. LaHood's son, Illinois state Senator Darrin LaHood, is running for his dad's old seat in Congress in a Sept. 10 special election, so the elder LaHood has plenty of reason not make a choice that might antagonize voters. 

Secretary of Energy Steven Chu
Quiet: The Nobel laureate in physics and Stanford professor returned to teaching after he left the cabinet in 2013. A spokeswoman said he does not endorse candidates.
Secretary of Education Arne Duncan
Quiet: He was the CEO of the Chicago Public Schools before becoming a cabinet secretary. A spokeswoman for the Department said he doesn't plan to endorse.
Secretary of Veterans Affairs Eric Shinseki
Quiet: The retired four-star general left the VA in 2014 after a scandal involving wait times for care. Bloomberg was not able to reach him for comment.
Secretary of Homeland Security Janet Napolitano
Quiet: The former Arizona governor endorsed Obama in 2008. She left the position in 2013 to become president of the University of California system.

Chief of Staff Rahm Emanuel
Clinton: The Chicago mayor got behind Obama in 2008, despite having served in Bill Clinton's White House, but got on board with the Hillary Clinton before she even declared her run.
Administrator of Environmental Protection Agency Administrator Lisa Jackson
Donation: Like Clinton, Jackson faced questions over her e-mail usage, so her endorsement might not be too highly valued. On the other hand, she sits on the board of the Clinton Foundation and filings show she's given $2,700 to Clinton's campaign. Jackson left the EPA in 2013, and now serves as a vice president of Apple.

Director of the Office of Management and Budget Peter Orszag
Quiet: The former director of the Congressional Budget Office left the cabinet quickly, moving on in 2010. He's now a vice chair at Citi and a columnist for Bloomberg View.
Trade Representative Ron Kirk
Hedging his bets: The onetime mayor of Dallas left the his post in 2013 and joined the law firm of Gibson, Dunn & Crutcher. He has given $2,700 to the Clinton campaign, which he declined to call an endorsement, but he told Bloomberg Thursday he would donate to Biden as well if the vice president gets in.

Ambassador to the United Nations Susan Rice
Quiet: The National Security Advisor did tell Bloomberg Politics that Clinton's involvement in some of the administration's foreign policy pushes was "pivotal."
Chair of the Council of Economic Advisers Christina Romer
Quiet: Romer also left in 2010 and returned to teaching at the University of California, Berkeley.
Administrator of the Small Business Association Karen Mills
Donation: The former private sector executive served until 2013 and is now a fellow at Harvard's business and government schools. She donated $2,600 to Clinton's campaign.

Before it's here, it's on the Bloomberg Terminal.
LEARN MORE