Rubio Dismisses Trump in N.H.: He Won't Be 'Our Nominee'
The Republican candidate portrays Trump's message as one of anger, rather than his message of hope.
by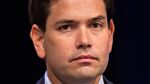 Marco Rubio shrugged off rival Republican presidential candidate Donald Trump's taunts during a campaign stop Wednesday in New Hampshire and said the businessman and reality TV star won't be the party's nominee.
"Ultimately the Republican Party will reach out to all voters based on who our nominee is. And I don't believe Donald Trump will be our nominee," the Florida senator said after speaking to a small crowd outside a car service center in this town of Orford. "I think our nominee is going to be someone that embraces the future, that understands the opportunities before us, that's optimistic but realistic about the challenges before us."
He acknowledged that "people are angry" and "they have a right to be," but insisted that "we should allow that anger to motivate us, but we shouldn't allow that anger to define us. We're not an angry nation. We are an optimistic nation who has every reason to be optimistic about the future."
 (Video: Sahil Kapur/Bloomberg Politics)
In his stump speech to fewer than 100 people in the northern part of the second presidential nominating contest, Rubio gently poked at the real estate tycoon who is towering over the Republican field in the polls, portraying Trump's message as one of anger as opposed to the senator's message of hope and opportunity.
"There's another gentleman running for president whose slogan is Make America Great Again. And I understand what he's trying to say. But I would remind him that America is great," Rubio said. "Ask yourself this question: who would you trade places with? Would you rather be China? Would you rather be Brazil or India or anyone else for that matter? There's no nation on earth I'd trade places with. The issue's not that America isn't great. The issue is that America has the chance to be greater. And we're not fulfilling our potential."
Tuesday in Iowa, Trump took a rare jab at Rubio by suggesting that the senator was "very disrespectful" to his mentor Jeb Bush, the former Florida governor, by challenging him for the Republican nomination, and that if Trump were Bush "I would really go after that guy."
Rubio brushed it off Wednesday when asked about it. "I'm running for president. I'm not running against anybody," he said. "I'll continue to talk about my message." Despite a debate performance on August 6 that was praised by conservatives, Rubio is not showing strength is Republican polls nationally or any of the first three primary contests.
His message has been similar for weeks as he has largely steered clear of the brash real estate mogul's attacks this summer on rivals like Bush and Wisconsin Governor Scott Walker en route to front-runner status in the primary field. "I think we have a unique message in the field," Rubio said. "We're really focused on the future.
Is 'anchor babies' offensive comment?
"It offends a lot of people. I don't use the term," Rubio told Bloomberg.
He was referring to the recent controversy over the phrase, which refers to the practice of foreign nationals coming to the U.S. to give birth so that their children will be American citizens, as the Constitution provides.
Rubio said he prefers to deal with those who exploit birthright citizenship by taking steps to reduce illegal immigration—mandating E-Verify and an entry-exit tracking system—instead of changing the Constitution.
"We're not going to amend the 14th Amendment," Rubio said.
Keep the existing minimum wage
Rubio said he didn't want to repeal the federal minimum wage of $7.25 per hour, but he also opposes Democrats' efforts to raise it.
"Well, I'm not in favor of repealing what we have now. I just don't think the minimum wage increase is the best way to increase wages for Americans," he said, touting his plans to lower business taxes and encourage alternative forms of education. He argued that a high minimum wage would lead to "higher prices and less employment."
Many conservatives oppose a federal minimum wage in principle on the argument that it distorts the market and causes unemployment. But with the idea of a minimum wage hike popular across the country, Republican candidates are proposing to simply leave the existing federal wage floor alone.
A government shutdown over Planned Parenthood?
With Congress set to begin debate on how to keep the government running next month ahead of a September 30 deadline, Rubio said he'd do "anything possible" to defund the group. "I feel very strongly about it." Some conservatives, including presidential rival and Texas Senator Ted Cruz, have signaled they would rather shut down the government than continue the roughly $500 million in annual funds for the group.
Rubio wouldn't go quite that far but kept the door open.
"Look, I want to defund Planned Parenthood. I believe the organization has forfeited its right to receive federal funds based on the revelations that have already come out," Rubio said, referring to recent undercover videos of officials for the women's health provider discussing the sale of fetal tissue. "But again, we'll see how that plays out. I'm not sure how that's all going to play out."
Senate Democrats, who have the power to filibuster, have made clear they won't allow any measure that defunds Planned Parenthood to pass.
Before it's here, it's on the Bloomberg Terminal.
LEARN MORE