N.J.'s Creaky Mass Transit Endangers Boom for Wall Street West
Elise Young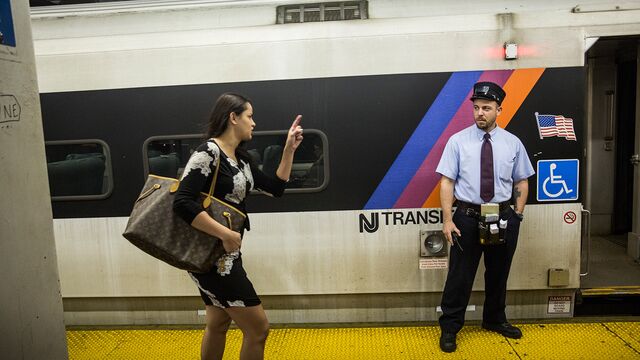 Jersey City, one of the few bright stars in New Jersey's employment recovery, is in danger of being strangled by the state's transportation crisis.
The city on the Hudson River waterfront accounted for 10 percent of the state's job growth in the past year. It has lured residential development and companies like JPMorgan Chase & Co. and Fidelity Investments, and outpaced the state and nation in reducing joblessness. Mayor Steven Fulop expects Jersey City to surpass Newark as the state's most populous municipality in 2016.
He's not so sure, though, that New Jersey's rails and roads can handle the influx. A new commuter-rail tunnel into Manhattan is at least a decade away. The existing ones are vexed by repairs and delays. Governor Chris Christie's calls for fiscal restraint are threatening the growth of cities like Fulop's that are dependent on public transportation.
"Jersey City's success has largely been correlated to investment in mass transit," said Fulop, a Democrat. "Trenton's lack of a plan has really had and could potentially have a devastating impact."
His 14-square-mile (36 kilometer) community of 257,300, one train stop from Manhattan, has lured financial firms in the past decade, earning the nickname Wall Street West. Fulop, 38, who worked at Citigroup Inc. and Goldman Sachs Group Inc., quit Sanford C. Bernstein & Co.'s trading desk to run for mayor and took office in 2013.
Millions of dollars in tax incentives have persuaded companies to move to Jersey City. New York Life Insurance Inc. received $33.9 million over 10 years from the New Jersey Economic Development Authority to bring 625 jobs to Goldman Sachs Group Inc.'s waterfront building, itself the recipient of a 20-year tax break. JPMorgan secured about $188 million in tax benefits over 10 years, according to filings with the development authority.
The city in December was awarded a $2.25 million grant by Bloomberg Philanthropies, established by Michael Bloomberg, majority shareholder of Bloomberg LP, parent of Bloomberg News. The grant will fund a team to address violent crime, youth development and economic development.
While JPMorgan prepares to bring 2,150 technology jobs to the waterfront financial district, more than 1,500 residential units are planned for high-rises across town in Journal Square.
The boom is an exception to widespread weak finances for New Jersey, whose "lack of employment opportunities" are compounded by out-of-state relocations by Mercedes-Benz USA Inc. and other companies, according to an April report by Mark Vitner, senior economist for Wells Fargo Securities LLC.
From June 2013 to June 2015, Jersey City's unemployment rate dropped 4.7 percentage points. In the same period, New Jersey's rate fell 2.9 percentage points.
Access to Manhattan is key to growth in real estate and jobs, said Daniel Solender, who manages $17 billion in municipal bonds for Lord Abbett & Co., which is based in the city. By every measure, the transportation system that provides that is in bad shape.
Christie, a second-term Republican campaigning for president, has resisted the Democratic-led legislature's effort to raise the gasoline tax. The levy, the second-lowest behind Alaska's, pays for bridges, highways and mass transit. In 10 months, the state will have run through its $8 billion Transportation Trust Fund for such projects.
Six times in July, New Jersey Transit commuters were delayed as long as 90 minutes by breakdowns of equipment. Some riders were switched to the Port Authority of New York & New Jersey's PATH trains, "a tremendous burden" for a lifeline that serves Jersey City, Hoboken and Newark, Fulop said.
"The current Port Authority infrastructure can't handle it," Fulop said.
State and federal officials are negotiating over financing a new $16 billion Hudson River tunnel to be used by Amtrak and New Jersey Transit. Completion is at least 10 years off, and increasing delays on Northeast Corridor lines are a certainty, Amtrak executive Stephen Gardner told lawmakers in Trenton.
Kevin Roberts, Brian Murray and Nicole Sizemore, spokesmen for Christie, didn't respond to e-mails seeking comment on the crisis.
Nancy Snyder, a spokeswoman for New Jersey Transit, said Jersey City's growth is partly attributable to the agency's Hudson-Bergen Light-Rail line that opened in 2000, linking waterfront cities. The system serves 50,178 customers each weekday, providing connections to New York-bound transportation.
"New entrepreneurs, artists and commuters who support local businesses now live around the HBLR system," Snyder said in an e-mail. "NJ Transit is proud to be a factor in the revitalization of these areas."
PATH on a typical day has 265,000 riders. Yoo Lee, a 33-year-old wedding dress designer with a studio in New York's TriBeCa neighborhood, skips the Jersey City PATH station nearest her home in favor of one less crowded, and even then avoids rush hour.
"It's not just about the Northeast Corridor spillover," Lee said in an interview. "It also has to do with the sudden development of Jersey City, our population explosion. You only have to walk downtown to see the number of buildings going up."
Before it's here, it's on the Bloomberg Terminal.
LEARN MORE