Jeb Bush's New E-Mail Book Gives Glimpse of 'Storm Governor'
The unique political book shows Bush engaging with Floridians during an historic hurricane season.
by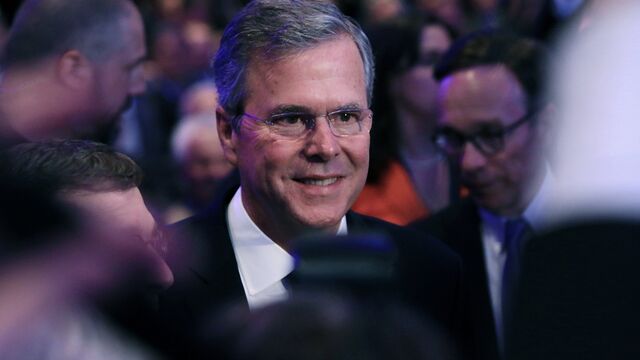 Jeb Bush liked to keep lists when he was the governor of Florida and work out on the weekends. He enjoys fruit just fine, but draws the line at broccoli. And he was deeply involved during his state's historic hurricane season in 2004.
Those are some of the revelations Bush provides in "Reply All," the former Florida governor's new e-book, which will be published Oct. 30 and goes on sale on Wednesday at 12 a.m. The book takes a unique approach for political biography by relying on some of the tens of thousands of e-mails Bush sent and received as governor to tell the story of his eight years in office.
The book's release comes as Bush campaigns for the Republican presidential nomination mostly by pointing to his record as governor. It also draws a contrast with the Democratic front-runner, Hillary Clinton, who is trying to ease concerns about how use of a private e-mail server as U.S. secretary of state.
Bush released roughly 250,000 e-mails from his time as governor on a website earlier this year. Bush, like Clinton, used a private e-mail address to conduct public business while he was governor from 1999 to 2007. Florida law requires governors to turn over e-mails after leaving office, which Bush didn't complete until providing the state about 25,000 e-mails last year.
Bush, whose Blackberry was included in his official portrait as governor, spent an estimated 25 hours a week writing and reading e-mails, according to his campaign. 
The chapter dedicated to 2004, which the Bush campaign provided on Tuesday, shows the then-governor at work as four major storms hit the state in six weeks. The total estimated damage from the storms was $42 billion, which approached the $52.3 billion budget for the fourth most populist state that year, Bush wrote in the chapter.
"The worst part of each storm was meeting people in the special needs shelter that had nothing and were really hurting," Bush wrote in one e-mail.
Many of the e-mails in the book show Floridians thanking the governor for his help during the storm, including one from a man who said his three-year-old child referred to Bush as "the storm governor" when she saw him on TV.
The release of the 2004 chapter comes as Bush travels on Wednesday to Pensacola, where Hurricane Ivan hit on Sept. 16. It caused $6.6 billion in damage and was blamed for the death of 14 Floridians. 
The campaign on Tuesday also released a video aimed at showing Bush's role in the state's hurricane recovery.
Before it's here, it's on the Bloomberg Terminal.
LEARN MORE