Hillary Clinton Touts Obama Administration Support as Joe Biden Mulls Options
If the two Democrats do run against one another, they could battle over who is best suited to carry on Obama's agenda.
by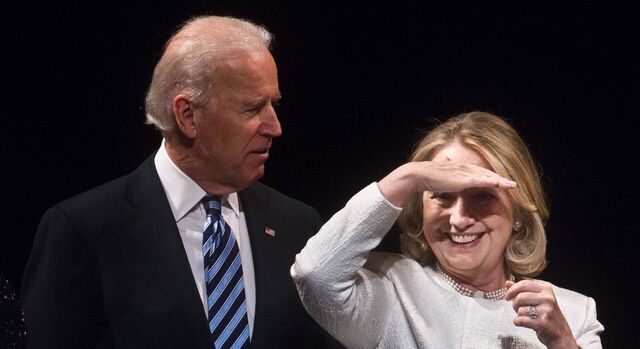 When his deadline for deciding whether to run for president was still half a year away, Vice President Joe Biden visited Iowa and offered a hint of how he'd campaign.
He would, he told an audience at Drake University in February, embrace the Obama administration's achievements, and "stand for what we have done, acknowledge what we have done. And be judged on what we have done, if we have any chance for resurgence—continued resurgence—in 2016."
"Some say that would amount to a third term of the president," he added. "I call it sticking with what works."
Six months later, as Biden closes in on a decision, his former colleague Hillary Clinton headed to Iowa with a promise to protect President Barack Obama's achievements and to reach beyond them. Underscoring the point was the presence of Agriculture Secretary Tom Vilsack, an original member of Obama's Cabinet who had just decided to endorse her for president.
"Obviously I was proud to be a member of President Obama's Cabinet, but I also have ideas where I want to go, not just build on what was done, but go beyond," Clinton told reporters Wednesday at Des Moines Area Community College's Ankeny campus, the second of two colleges Biden visited in February.
Thus far, the former secretary of state's policy proposals have leaned heavily on the Obama administration's accomplishments and on ideas the president has not been able to push through Congress. She has spoken about improving the Affordable Care Act, embracing Obama's plan for free community college, protecting the Dodd-Frank Act, and then going "beyond."
Biden is in the final weeks of the end-of-summer deadline that he set in Iowa back then, trying to decide "whether or not there is the emotional fuel at this time to run," as he told members of the Democratic National Committee Wednesday, according to CNN. In May, his older son, the one named for him and nicknamed Beau, died of brain cancer.
Clinton said Wednesday that she was keenly aware of the second family's struggles. "I was at his son's funeral. I can't even imagine the grief and the heartbreak," she said. "I mean, Joe has had more terrible events than most people can even contemplate—losing his first wife, losing his first daughter, now losing his son."
She added: "He has to do what he has to do, but I'm just going to continue with my campaign."
While Biden's conclusion hinges on personal considerations, the endless drama over Clinton's use of a private e-mail account while serving as secretary of state and slipping numbers in some key state polls make a successful Biden campaign seem a bit more achievable.
How better to stick with what works—Biden might suggest if he were to run, echoing his words from the winter—than for Democrats to choose the man who President Barack Obama chose as his second in command?
It's a question with which White House press secretary Josh Earnest grappled on Monday, leaning on Obama's own words. "The president has indicated his view that the decision that he made I guess seven years ago now to add Joe Biden to the ticket as his running mate was the smartest decision that he had ever made in politics," Earnest said. "And I think that should give you some sense of the president's view of Vice President Biden's aptitude for the top job."
Even so, all signs have for years pointed to the Obamas' sense that Clinton is the most likely and strongest guardian of the Obama legacy.
And members of the Obama administration are beginning to publicly side with Clinton. Agriculture Secretary Tom Vilsack endorsed her on Tuesday with an op-ed in an Iowa newspaper. He can't endorse candidates as sitting Cabinet member, but he can in his capacity as a private citizen and a former governor of Iowa.
Vilsack joined Clinton on the campaign trail across three Iowa cities on Wednesday as she rolled out a set of policy proposals aimed at rural communities, and Clinton hinted at his current job, thanking him "for the work you are now doing around the country."
In Ankeny, Clinton and Vilsack stood in front of a bright-green John Deere tractor with Iowa's blue, white and red flag flying above.
"I know no one in America who's tougher or more tested than Hillary," Vilsack said. "You don't have to ask yourself if she is tough enough to handle trumped up charges," he added to laughter to what could be taken as an allusion to Republican presidential candidate Donald Trump. "That is with a small T."
Vilsack also took what could be interpreted as a subtle jab at Vice President Joe Biden: "She is the best candidate from my party to win this election."
Later on, Vilsack told reporters that the timing of his endorsement wasn't influenced by Biden's considerations and was just about when it worked with vacation schedules.
Asked if the next Cabinet meeting might be a little awkward because of his endorsement, Vilsack said it was decades of loyalty and a confidence in Clinton's ability to lead that had brought him to his endorsement decision but that he holds no ill will toward the vice president.
"I love Joe Biden just like we all do. He's a wonderful man," Vilsack said.
Before it's here, it's on the Bloomberg Terminal.
LEARN MORE