Clinton Is Wrong: Trump and Bush Do Differ on Immigration
There are three obvious ways that the Republican candidates differ on immigration reform.
by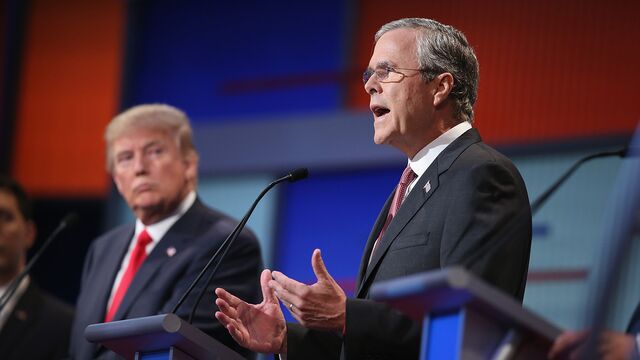 Back in July, during her first televised interview since becoming a presidential candidate, Hillary Clinton reacted to Donald Trump's comment about undocumented immigrants being "rapists" by tying his rhetoric to the rest of the Republican party.
In the weeks since there has been more controversy, including the rise of the term "anchor baby" and a call to end birthright citizenship, Clinton is sticking with the same strategy.
"How do Jeb Bush and Donald Trump differ on immigration?" Clinton's campaign account tweeted Tuesday. "Spoiler alert: They don't."
In an accompanying video, her team notes that both Trump and Bush oppose a pathway to citizenship, want to repeal President Obama's executive actions and have used (and defended their use of) the term "anchor babies." 
The end of the video features Clinton saying "most of the other candidates are just Trump without the pizazz or the hair."
The similarities don't end there: both Bush and Trump would crack down on sanctuary cities and visitors overstaying their visas, and call for increased use of the E-Verify system to identify those who are eligible to work legally in the U.S. But Bush, who is married to a Mexican immigrant and once called illegal immigration "an act of love," doesn't agree 100 percent with Trump. Here's a handy list on where the two candidates differ:
Make Mexico pay for a wall 
TRUMP: According to the immigration plan he released earlier this month, Trump would attempt to make Mexico pay for a wall along its border with the United States, and raise fees for temporary and NAFTA worker visas, border crossing cards, and ports of entry to the U. S. from Mexico.
BUSH: During a press conference at the U.S./Mexico border on Monday, Bush called the wall unrealistic and criticized the policy behind it:
"Building a wall will cost hundreds of billions of dollars. It's not realistic, it won't be implemented. And we need border security to be able to deal with getting this country back on track. So I'm not going to get into this issue of what he said and what I said. The simple fact is that his proposal is unrealistic . . . it will violate people's civil liberties, it will create friction with our third largest trading partner that is not necessary, and I think he's wrong about this."
End birthright citizenship
TRUMP: The billionaire front-runner has said he believes that birthright citizenship, a right granted by the 14th amendment, is "not going to hold up in court."
BUSH: During a town hall in Denver on Tuesday Bush reiterated that he supports birthright citizenship. "I think that is a noble thing that we should do," he said. "But we've got to control the immigration system in this country."
Deport all undocumented immigrants
TRUMP: Deporting an estimated 11 million undocumented immigrants would not be cheap, but Trump says he would do just that, and quickly let the "good ones" come back into the country.
BUSH: During an appearance in Atlanta last week, Bush said mass deportation "isn't feasible, isn't practical."
—Michael Bender contributed to this story. 
Before it's here, it's on the Bloomberg Terminal.
LEARN MORE