Obama Endorsement Possible as Biden Considers Clinton Challenge
Angela Greiling Keane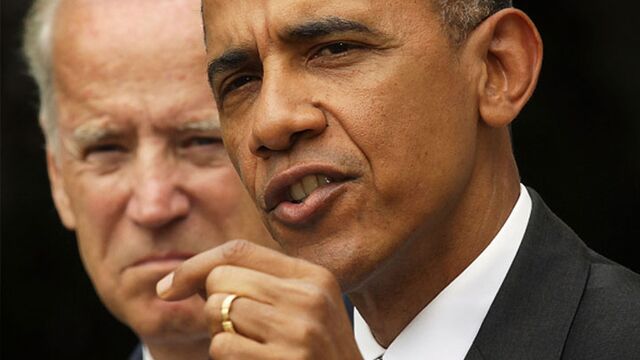 President Barack Obama may issue an endorsement in the Democratic primary, his press secretary said Monday, as Vice President Joe Biden considers whether to challenge former Secretary of State Hillary Clinton.
While Obama considers his selection of the former Delaware senator as his running mate the best political decision he's ever made, White House press secretary Josh Earnest said, the president so far has remained neutral in the Democratic contest to succeed him.
"I wouldn't rule out the possibility of an endorsement," Earnest told reporters at a White House briefing, after he was asked if Obama would express his preference in the race.
Biden is considering a late entry into the Democratic primary, after revelations about Clinton's use of a private e-mail server as Secretary of State have hurt her standing in polls. Her top challenger at the moment is Senator Bernie Sanders of Vermont.
Earnest said he expects a decision by the vice president within a month. He said nothing to discourage a run by Biden, who is 72.
Related: Timing Key as Biden Enters Make or Break September
"There's so much that has been accomplished over the last six or seven years that President Obama is enormously proud of," Earnest said. "A large portion of it would not have been possible without the wisdom, counsel and leadership of Vice President Biden."
Clinton, Obama's first secretary of state and, like Biden, a former U.S. senator, continues to lead polls against Sanders and lesser-known candidates including former Maryland Governor Martin O'Malley.
Biden returned to Washington on Saturday for a meeting with Senator Elizabeth Warren, a Massachusetts Democrat who is popular with liberals and who has not endorsed Clinton. The meeting heightened speculation about Biden's intentions.
Earnest said the president will vote in the Democratic primary election in Illinois, regardless of whether he issues an endorsement.
Before it's here, it's on the Bloomberg Terminal.
LEARN MORE