Trump Thinks Alabama Is Key to Winning the GOP Nomination
Why the Friday Night stadium gig in Mobile is much more than a Trumpian lark.
by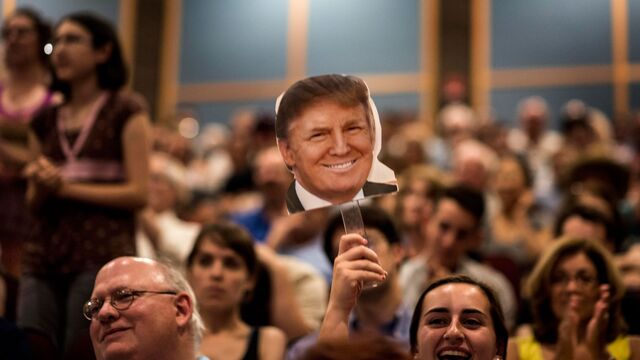 Donald Trump's surprise decision to hold a massive rally in Mobile, Alabama, tonight completely puzzled political insiders and journalists. Alabama, unlike Iowa or New Hampshire, is not a critical early state in the Republican presidential primaries, nor is it a general-election swing state that would benefit from early cultivation. So to put it in terms Trump might use: What's the deal?
It turns out, according to two Trump associates I spoke with, that Trump views Alabama, and the other Southern states that hold March 1st primaries, as the key to locking down the Republican nomination. The stadium rally is also a way to deepen his identification with Alabama Republican Sen. Jeff Sessions, who lives in Mobile and whose view on immigrants and immigration—he's mainly against both—Trump shares. As Sessions told me, he and Trump appeal to the same type of voters, "a lot of middle-class working people, who don't trust establishment messaging. I call it 'honest populism.'"
Here is the Trump political logic: "Alabama is extremely critical," a close associate of Trump's told me (actually, we agreed I'd call him "a close associate of Mr. Trump"). "You have Iowa's caucus on February 1st, New Hampshire on the 9th, and South Carolina on the 20th." The race, this associate explained, would not be wrapped up by then. According to this political calculus, the crucial moment arrives three days later, on March 1st, with the "SEC primary"—the belt of Southern states that encompass the Southeastern Athletic Conference—when Alabama, Texas, Georgia, Arkansas and several others hold their primaries.
Trump is currently leading the polls in many of these states. A new Texas poll has him in first place, beating actual Texans Ted Cruz and Rick Perry. He's dominating the field in Alabama, as well, doubling the support of second-place finisher Jeb Bush, from neighboring Florida. (Trump is winning in Florida, too, according to a new Quinnipiac University poll, which, although it is an SEC state, doesn't hold its primary until March 15th). If Trump sweeps the early states, or even just wins Iowa and South Carolina, these advisers believe he could effectively lock down the Republican nomination by sweeping the SEC primary on March 1st. "He feels he wins the nomination on 1 March w/ a sweep of the populist anti-establishment South," another adviser emailed. "That's when Trump's 'nationalism' coupled with Sessions' 'populism' comes to full fruition."
The Alabama rally is meant to show that "he's starting to motivate and cultivate the base there," the close associate said, and to demonstrate that Trump is putting in place the strategy and structure to actually win the Republican nomination and not just—as some haters surmise—make a big splash in Iowa and then bail out to go cut the ribbon in some new hotel. 
Furthermore, Trump believes he has a secret weapon that could help him carry the South. "The other thing people don't know about Mr. Trump is that his brand and sales are strongest in the South," the associate told me. "His TV ratings, his Trump Resorts guests. So this [stadium rally] is about bringing the message that he is here to stay, and is the legit frontrunner. This shows a calculated strategy, that he understands the process and understands it's not going to end in South Carolina. We're going to bring the message down further into the belt and expand his support."

Correction: The article was updated for the correct date of the South Carolina primary.
Before it's here, it's on the Bloomberg Terminal.
LEARN MORE