Ted Cruz Criticizes Carter Day After Wrenching Talk on Cancer
Later, Cruz stood firm despite the timing of his remarks: "We can always have a discussion about public policy."
by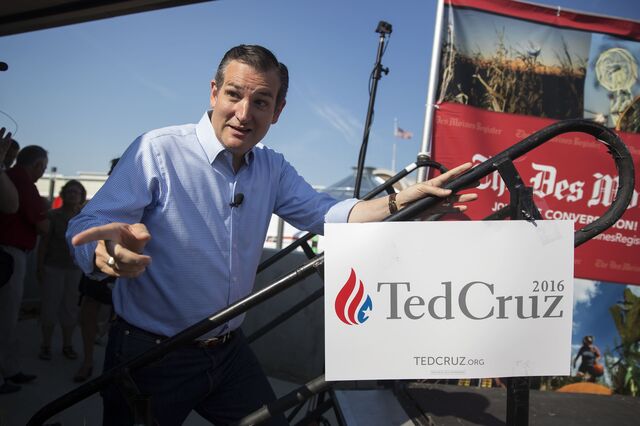 A day after Jimmy Carter appeared on national television to talk about the cancer that's ravaging his body, Republican presidential candidate Ted Cruz criticized the former president's administration in a speech in Iowa.
"I think where we are today is very, very much like the late 1970s," the senator from Texas said on the Des Moines Register's political soapbox stage at the Iowa State Fair.
"I think the parallels between this administration and the Carter administration are uncanny: same failed domestic policies, same misery, stagnation and malaise, same feckless and naïve foreign policy," Cruz said. "In fact, the exact same countries—Russia and Iran—openly laughing and mocking at the president of the United States."
Cruz then paused and asked, "Why is it that that analogy gives me so much hope and encouragement?"
"We know how that story ended," he continued. "All across this country, millions of men and women rose up and became the Reagan revolution."
Asked later by a Register reporter if the timing of his remarks on Carter could be considered insensitive, Cruz stood firm.
"We can always have a discussion about public policy," he said. "The public policy of the late 1970s didn't work. And the point that I made here that was so important is that in response to the failures of public policy in the late 1970s there was a grassroots movement of millions of men and women that rose up and became the Reagan revolution. And the same thing is happening today."
In June, Cruz apologized for joking about Vice President Biden as he grieved for his son Beau, who died of brain cancer. "It was a mistake to use an old joke about Joe Biden during his time of grief," Cruz said, "and I sincerely apologize."
Republican Congressman Steve King,  a darling of the Tea Party movement who represents northwest Iowa, defended Cruz's references to the Carter administration the day after the former president spoke to the nation about his cancer.
"Jimmy Carter is a decent man and his heart has always been right," King said. "His head hasn't always been what I think is right for America."
Speaking earlier to reporters, Cruz declined to say whether he find the phrase "anchor baby" personally objectionable.
"What I find objectionable is the fact that our border is unsecured, that we do not know who is coming into this country and who isn't coming into this country, and that the Obama administration is releasing violent criminal illegal aliens," he said when pressed. 
Former Florida Governor Jeb Bush, another Republican presidential candidate, used the term earlier this week, triggering complaints from Hispanics and Democrats who have deemed the term offensive and improper.
"I get there is nothing that the press likes more than a sideshow on some politically correct debate," he said. "Who cares? What people care about is, solve the problem."
Responding to Bush's comment Thursday that Cruz and Senator Marco Rubio of Florida, another GOP presidential candidate, are beneficiaries of so-called birthright citizenship, Cruz mockingly thanked him.
"I appreciate Governor Bush's concern," he said. "It seems he's having a problem and getting confused between legal immigration and illegal immigration."
Rubio's parents immigrated to the U.S. from Cuba. Cruz was born in Canada to an American mother and a Cuban-born father.
Cruz went on to explain that he's a U.S. citizen because of his mother and that the nation has a long tradition of granting citizenship to such children.
"It seems Governor Bush has that confused with the very different notion that someone who comes here illegally should not have the law grant automatic citizenship to their children, if they are here illegally," he said.
On Friday evening, Cruz is schedule to hold a "Rally for Religious Liberty" in downtown Des Moines, an event he said he expected to draw "thousands." It will feature business owners who've been sued for refusing to serve same-sex couples who are getting married. 
Before it's here, it's on the Bloomberg Terminal.
LEARN MORE