Obama Letter to Lawmaker Says U.S. Will Act If Iran Deal Broken
Margaret Talev and Kathleen Miller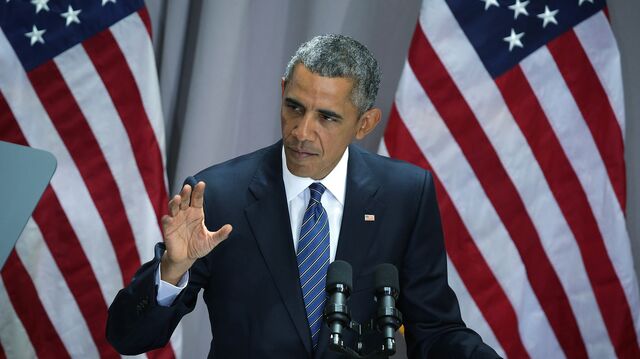 President Barack Obama wrote a letter to a lawmaker saying the U.S. could take military action against Iran or reinstate sanctions if the country doesn't comply with a nuclear agreement, part of an effort by the administration to build enough support to ensure the deal survives.
The Aug. 19 letter to Representative Jerrold Nadler, a New York Democrat, seeks to counter opponents who are urging Congress to reject the accord.
"All of the options available to the United States –- including the military option -– will remain available through the life of the deal and beyond," Obama wrote in the letter, released by the White House Thursday night.
Obama also wrote that no other country can block U.S. or multilateral sanctions if the U.S. or European allies believe Iran has failed to meet its commitments. While Obama has made these assurances publicly, the letter to Nadler represents a more personal approach. It's also intended for other Jewish Democrats and Democrats with concerns over the agreement.
Obama also is seeking to counter opposition from Israeli Prime Minister Benjamin Netanyahu and the country's supporters in the U.S. The letter, reported earlier by the New York Times, said the administration is prepared to increase missile defense funding for Israel and accelerate the country's tunnel detection and mapping technology.
Congress is planning mid-September votes by the Republican-led House of Representatives and Senate. Lawmakers are expected to back a formal resolution of disapproval of the multination agreement with Iran to relax sanctions in exchange for concessions and inspections aimed at preventing the Islamic Republic from acquiring nuclear weapons.
Democratic Support
Obama is ramping up his engagement ahead of those votes. Officials also said Thursday that the president will participate in an Aug. 28 webcast with North American Jewish activists, making remarks and answering questions.
White House officials have said they're confident Obama has sufficient Democratic support to sustain a veto of such legislation.
Obama needs eight more senators to sustain a veto. While 24 Senate Democrats and two independents who caucus with them have said they support the Iran accord, only two Democrats have said they oppose it.
As of Thursday morning, 18 Senate Democrats, including Minority Leader Harry Reid of Nevada, hadn't announced how they'll vote on the agreement.
The 435-member House already has more than the 218 votes needed to pass a resolution of disapproval of the accord. At least 230 Republicans, as well as a minimum of 11 of 188 Democrats, are opposed to the deal. At least fifty-three of the chamber's Democrats support the agreement, while the rest have yet to announce their position.
No Republicans in either chamber have come out in favor of the accord.
Before it's here, it's on the Bloomberg Terminal.
LEARN MORE