Hispanic Republicans Says Trump Forcing Candidates' Hands
Esmé E. Deprez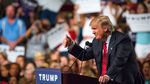 Michael Parra, a Hispanic Republican from Colorado, doesn't agree with all the hard-line positions on immigration taken by Donald Trump, including the deportation of 11 million undocumented people already in the U.S.
He does see an unexpected upside: The front-running Republican candidate is laying out clear positions on an issue that has bedeviled his party -- and that's prompting his competitors to do so, too.
"This has never been brought to the forefront of the national discussion in the last eight years the way it has in the past few days," said Parra. "And that's because of Donald Trump."
Similar sentiments were voiced in interviews with a half-dozen Hispanic Republican voters like Parra, who compose a crucial demographic for winning the White House in the battleground states of Nevada, Florida and Colorado. They reject the conventional wisdom of party moderates that voters will punish candidates with far-right views on immigration. They say the potential that such outspoken talk could awaken voters outweighs risks that it will fatally tar conservatives as anti-immigrant.
The perils of failing to win over the growing share of Hispanic voters was made clear in the 2012 election: Republican Mitt Romney captured just 27 percent of them as he was defeated. Hispanics, who tend to lean Democratic, made up 10 percent of the electorate that year, according to exit polls.
Automatic Citizenship
Trump's plans to overhaul the U.S. immigration system, unveiled last weekend, also call for the end to the Constitution's provision of automatic citizenship for babies born to parents in the U.S. illegally.
Governor Scott Walker of Wisconsin, who's seen his popularity in polls diminish as Trump's rises, indicated Monday his support for ending birthright citizenship, though he walked back his stance in an interview Friday with CNBC. Texas Senator Ted Cruz has said he'd also put an end to the policy. Former Florida Governor Jeb Bush has said doing so would be a mistake.
Hugo Chavez-Rey, chairman of the Colorado Hispanic Republicans, shot down Trump's call for mass deportation as "nonsense" and "red-meat rhetoric." Chely Hernandez-Miller, the president and outreach coordinator for the Hispanic Republican Club of Pinellas County, Florida, said such a plan would be logistically impossible to carry out and that people should be given the chance to work toward obtaining legal status.
But, they said, Trump is waking up people who feel their views have been ignored.
Establishment Republicans
"Here's the scuttlebutt on the street from conservative Hispanics: For the most part they love Donald Trump," Chavez-Ray said. "If he is alienating and/or angering establishment Republicans then he's doing everything right."
Laureen Gutierrez, who serves on the board of Chavez-Ray's Denver-based group, agrees.
"I want to see the candidates speaking truth to the issues instead of saying what they just think people want to hear."
Trump first made headlines for racially provocative remarks when announcing his candidacy in June, calling some Mexican immigrants "rapists" and saying they bring drugs and crime to the U.S. Alfonso Aguilar, who directs the American Principles Project's Latino Partnership, a conservative group in Washington, has since been urging candidates to distance themselves from Trump and his remarks. Not doing so, he said, would hurt the party with Hispanic voters.
Smart Enough
Annette Teijeiro, a first-generation American born to Puerto Rican and Cuban parents who's running for Congress from Nevada, says Trump doesn't speak for the Republican party and that Hispanic voters -- indeed all voters -- are smart enough to know that.
"I have faith in people," she said. "I think they can sort out the facts. When I speak to Latino voters, they're much more concerned about jobs, education and opportunity for their children."
Polling backs up Teijeiro's contention. In 2014, nearly half of Hispanic voters identified the economy as their top concern, compared with just 16 percent citing illegal immigration, according to the Pew Research Center. That's comparable to all U.S. voters.
For Democrats, Trump's comments on immigration offer a ready-made opportunity to cast his party as too extreme for American voters, the majority of whom say in polls that undocumented immigrants currently living in the U.S. should be allowed to stay in the country legally, if certain requirements are met.
"It is disturbing that Republican presidential candidates continue to embrace extreme anti-immigrant positions as core pieces of their immigration platform," Hillary for America Latino Outreach Director Lorella Praeli said in a statement.
Before it's here, it's on the Bloomberg Terminal.
LEARN MORE