McCaskill Backs Iran Deal, Bringing Obama Close to Votes Needed
Kathleen Miller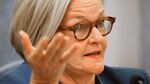 Missouri Senator Claire McCaskill, a moderate Democrat from a swing state, said she would support the Iran nuclear deal, bringing President Barack Obama close to the votes needed to uphold the deal even if Congress opposes it.
McCaskill, a member of the Senate Armed Services Committee who typically supports Obama, said Thursday that after weeks of reviewing the international agreement she decided that a U.S. rejection of it would weaken global security.
"It has become clear to me that the world is united behind this agreement with the exception of the government of Israel," McCaskill said in a written statement. "I respect and understand those who oppose it, but I have become convinced that it is more dangerous to Israel, America and our allies to walk away in the face of unified world-wide support."
McCaskill played a key role in Obama's political career, backing him for the Democratic presidential nomination in 2008 over Hillary Clinton.
The announcement by McCaskill means Obama needs just eight more senators to sustain his promised veto if, as expected, the Republican-controlled Congress passes a resolution disapproving of the deal next month. While 24 Senate Democrats and two independents who caucus with them have said they support the Iran accord, only two Democrats have said they oppose it.
Still Pending
As of Thursday morning, 18 Senate Democrats, including Minority Leader Harry Reid of Nevada, hadn't announced how they'll vote on the agreement. Other Democratic senators who had yet to disclose a decision include Cory Booker of New Jersey, Joe Manchin of West Virginia, and Ben Cardin of Maryland.
Senator Mitch McConnell, the Republican leader, said Monday at an event in his home state of Kentucky that the review process gives Obama the upper hand in sustaining a veto of a resolution to disapprove of the deal, according to the Associated Press.
Don Stewart, a McConnell spokesman, declined to confirm the comments at the event but said the veto process does help Obama.
"I wasn't there," Stewart said in an e-mail earlier this week. "I can confirm that the Constitution does stack the veto override in favor of the president."
Before it's here, it's on the Bloomberg Terminal.
LEARN MORE