Donald Trump Bests Jeb Bush in New Hampshire Town Hall Duel
The two candidates took aim at one another on Wednesday night.
by and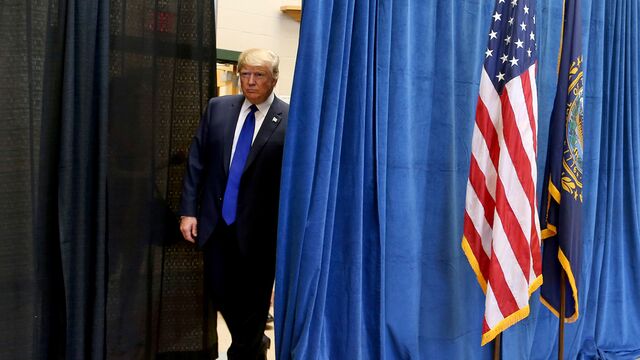 The battle for the future of the GOP is on. 
Two different Republican Parties—the contemptuous, anti-government one of billionaire Donald Trump and the straight-laced, traditional version of former Florida Governor Jeb Bush—were on display in New Hampshire Wednesday night.
So was a gap in enthusiasm, as Trump one-upped his rival with a last-minute town hall held at the same time as one planned by Bush's campaign for weeks, with the dueling events held just 20 miles apart.
At Trump's event, an estimated 2,000 supporters tried to get into a gymnasium that sat 890 at Pinkerton Academy in Derry. Two hundred and fifty of the overflow crowd packed into the school's cafeteria, leaving hundreds more that had to be turned away. 
The billionaire's multi-generational fans lined up to see Trump two hours before the event began, some rowdy before the GOP front-runner arrived. "Where's Trump?" some yelled, as 1980s-vintage rock music, including Aerosmith's "Living on the Edge," served to pump them up even more.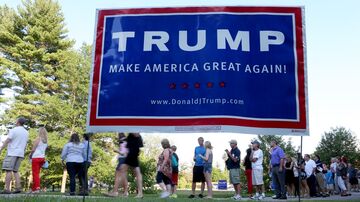 Meanwhile, at Bush's town hall at VFW Post 8641 in nearby Merrimack, a predominantly silver-haired crowd dribbled in slowly, eventually filling the 128 folding chairs and lining parts of the wall shortly before the former Florida governor arrived in the flag-draped meeting hall.
They had no rock music. They waited politely—and not necessarily out of any enthusiasm for Bush.
"I'm going to watch and maybe I'll see something I like," said Sue Birck, an undecided retired school teacher.
Polly Gagnon, a retired bank secretary, said she preferred former Pennsylvania Senator Rick Santorum and Wisconsin Governor Scott Walker. Mel Taylor, 73, said he wanted to hear Bush give a better speech than the last time he heard him. Greg McCann, a 53-year-old deputy corrections commissioner for neighboring Massachusetts, said he just likes town halls.
"I'll listen but I don't think he can say anything that would get him my support," McCann  said. "I like Ted Cruz."
Perceived by many political observers as a must-win state for Bush, the New Hampshire story told in the crowd size and body language of each audience belied the stunning dynamic shift Trump's entry into the race has meant for the Republican race. 
In a poll last week of Granite State voters conducted by the Boston Herald, 18 percent said they favored Trump, 13 percent favored Bush and 12 percent favored Ohio Governor John Kasich, who also held a town hall earlier in the day Wednesday.
For Bush, there was no avoiding the elephant in the room, and he was asked directly how he would counter the new GOP front-runner.  
"You can mention his name," Bush said to laughter, adding a measured critique of Trump's history of supporting Democratic ideas. Voters will eventually choose a proven conservative and Trump isn't one, he said.
"He was a Democrat longer than he was a Republican," Bush said to chuckles from the audience. "He's given more money to Democrats than he has to Republicans."
Twenty miles away, Trump also went after Bush, and not nearly as politely, ripping his support for Common Core and his stance on immigration and chiding his rival's campaign mode as "low energy."
"You know what's happening to Jeb's crowd right down the street?" Trump said, relishing the moment. "They're sleeping now."
Trump's crowd ate it up.
"We need somebody who is real," said Tammy Fredette, a 41-year-old salon manager.
Andrew Scolaro, a 33-year-old who maintains golf courses, said he would vote only for Trump. 
Dennis Dee, a commercial truck driver in his mid-40s, said Trump's supporters are both fed up and excited. "That's the kind of emotion we need from the American public, to demand the kind of change that Trump is saying that he's going to bring," Dee added.
When the Republican competitors weren't talking about each other, they stuck to their signature issues. Trump promised to build a "beautiful" wall between the U.S. and Mexico, and bashed the Obama administration for negotiating a nuclear deal with Iran that left out the return of U.S. prisoners. Bush spoke of the need to improve the nation's education system, and the need for the U.S. to fight the Islamic State in Iraq and Syria. 
Still, when Bush touched on the need for the Republican party to reach out to African-Americans and Hispanics, the subtext that Trump was not the right messenger was clear enough. 
Though Trump would have you believe otherwise, not everyone came away from Bush's much smaller town hall feeling underwhelmed. 
"He was much better," Taylor said after the event wrapped. "You can't doubt his passion."
But if passion is the marker on how these two men will ultimately be judged, Bush might do well to raise the volume a few notches. 
Before it's here, it's on the Bloomberg Terminal.
LEARN MORE