Why Hillary Clinton's Meeting With Black Lives Matter Was So Tense
The Democrat and the protesters disagree on what the goal of the movement should be.
by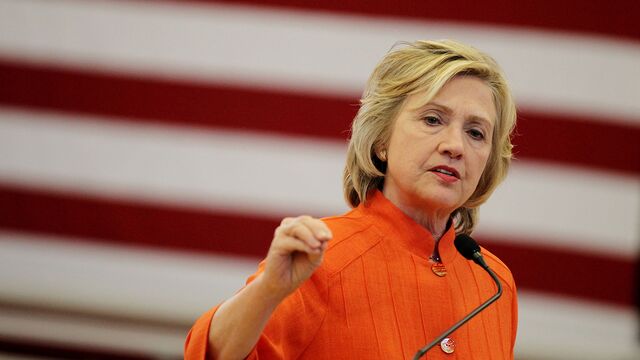 Last week, Hillary Clinton met with five Black Lives Matter activists who were denied entry to her town hall in Keene, New Hampshire. The at-times tense, 15-minute discussion centered on her family's role in shaping criminal justice policies—specifically her advocacy for the 1994 Violent Crime and Law Enforcement Act, which her husband signed into law—and what needs to happen next.
On Monday night, GOOD Magazine published video of the exchange, which heated up when the presidential candidate suggested that the movement needed to focus on specific policy goals, not changing hearts. "I think that there has to be a reckoning, I agree with that, but I also believe there has to be some kind of positive vision and plan that you can move people toward," Clinton said.
In subsequent media interviews, protesters Daunasia Yancey and Julius Jones, the founders of Black Lives Matter chapters in Boston and Worcester, Massachusetts, respectively, said that they were looking for a "personal reflection" from Clinton on her specific role advocating for policies that lead to the mass incarceration of black and brown individuals, not just a reflection on failed policies. They also disagreed with the Democratic front-runner's belief that you can't change people's hearts.
"This unwillingness to 'change hearts' is really an unwillingness to look at white supremacist violence for what it is, which is bigotry at its core," Jones said Tuesday during an interview with Yahoo News.
Clinton was focusing on something more pragmatic and tangible: the idea that some people who support the Black Lives Matter movement don't completely understand their role in it. Clinton wants to offer them a concrete set of achievable policy goals. As she told Yancey and Jones:
We know this country has still not recovered from its original sin, which is true. Once you say that, then the next question is, by people who are on the sidelines, which is the vast majority of Americans, the next question is 'So what do you want me to do about it?'… that's what I'm trying to put together in a way that I can explain it and I can sell it. Because in politics, if you can't explain it and you can't sell it, then it stays on the shelf. 
That's not the approach Black Lives Matter has taken. By raising awareness of the deaths of unarmed people of color at the hands of police, the organization has been focussed, to use Clinton's words, on changing the hearts and minds of Americans. 
When Yahoo News anchor Bianna Golodryga asked Jones on Tuesday what success for the movement looked like, he replied: "We will win our freedom and we will win our own equality in the United States, and we will bring humanity to this country."
Golodryga responded that, legally, black people are already free, and pressed him to elaborate. Jones said that victory means an end to poverty in the black and brown community, and an end to poverty over all. It meant, he said, living in a country where children like Tamir Rice, a 12-year-old boy who was killed by police while holding a toy gun, aren't killed for playing in a park. "I want to live in a country where those conditions don't exist," he said. 
Before it's here, it's on the Bloomberg Terminal.
LEARN MORE