Where the Republican Presidential Candidates Stand on Birthright Citizenship
The GOP field has expressed a range of opinions over whether to repeal the 14th Amendment to the U.S. Constitution.
by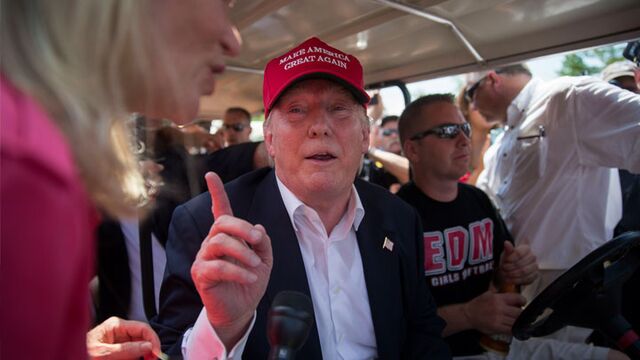 Billionaire Republican presidential candidate Donald Trump sparked a debate over U.S. birthright citizenship this week when he proposed ending the constitutional right as part of his immigration platform.
"This remains the biggest magnet for illegal immigration," Trump said of birthright citizenship in his immigration proposal. 
Some of Trump's rivals for the GOP nomination have suggested they also support a repeal of the 14th Amendment, or at least say it's worth considering. Other candidates trailing the front-runner have condemned his proposal as the party tries to make inroads with Hispanic voters in hopes of taking back the White House.
Here's a look at where the Republican who have weighed in on the issue currently stand. 
Scott Walker
The Wisconsin governor, who has already come under scrutiny for his changing views on some immigration issues, had this exchange with MSNBC at the Iowa State Fair on Monday:
KASIE HUNT: Do you think that birthright citizenship should be ended?

SCOTT WALKER: Well, like I said, Harry Reid said it's not right for this country—I think that's something we should, yeah, absolutely, going forward—HUNT: We should end birthright citizenship? 

WALKER: Yeah, to me it's about enforcing the laws in this country. And I've been very clear, I think you enforce the laws, and I think it's important to send a message that we're going to enforce the laws, no matter how people come here we're going to enforce the laws in this country.

HUNT: And you should deport the children of people who are illegal immigrants?

WALKER: I didn't say that — I said you have to enforce the law, which to me is focusing on E-Verify.  
In a subsequent statement, a Walker spokeswoman told Bloomberg Politics, "This is where he is: We have to enforce the laws, keep people from coming here illegally, enforce e-verify to stop the jobs magnet, and by addressing the root problems we will end the birthright citizenship problem."
During an interview with CNBC on Friday, Walker said he is "not taking a position on it one way or the other."
Marco Rubio
At the Iowa State Fair on Tuesday, Rubio voiced his disagreement with Trump's proposal.
"I don't agree with that. I'm open to doing things that prevent people who deliberately come to the U.S. for purposes of taking advantage of the 14th Amendment, but I'm not in favor of repealing it," the Florida senator said. 
Bobby Jindal
Jindal, the Louisiana governor who is known for his socially conservative views, on Monday expressed support for Trump's plan, at least in principle. "We need to end birthright citizenship for illegal immigrants," Jindal tweeted.
Carly Fiorina
The former Hewlett-Packard CEO, who's trying to maintain her momentum from the first televised set of debates earlier this month, said there are more pressing matters than ending birthright citizenship.
"Well, you know, we should talk about what it would take to get it changed," Fiorina said on Monday at the Iowa State Fair. "It would take passing a constitutional amendment to get that changed. This is part of the 14th amendment. And, so, honestly I think we should put all of our energies, all of our political will over finally getting the border secured and fixing the legal immigration system."
She added, "Donald Trump has part of it right. There's no question we should be defunding sanctuary cities if they won't enforce the laws. There's no question that we should be deporting illegals who have committed major crimes. There's no question that we should have an employer verification system that actually works so we can make it mandatory."

Jeb Bush
Bush, who supports a pathway to legal status for undocumented immigrants, said he opposes Trump's plan. CBS reported Tuesday:
"That's a constitutional right," Bush said. "Mr. Trump can say he's for this because people are frustrated that it's abused. We ought to fix the problem rather than take away rights that are constitutionally endowed."

On Wednesday, Bush reiterated that he would call for stronger enforcement before he'd call for an end to birthright citizenship.
"If there's abuse, if people are bringing - pregnant women are coming in to have babies simply because they can do it, then there ought to be greater enforcement," Bush said on Bill Bennett's Morning in America radio show. "That's [a] legitimate side of this. Better enforcement so that you don't have these, you know, 'anchor babies,' as they are described, coming into the country."
Lindsey Graham
Graham, one of Trump's most outspoken critics, took a more nuanced approach on Monday to CNN's Wolf Blitzer.
"I don't mind changing the law," the South Carolina senator said. "I think it's a bad practice to give citizenship based on birth. We have evidence of people buying tourist visas for the express purpose of coming over here and having a child as birth tourism. I don't think that's a good idea. But that's not going to happen until we fix a broken immigration system."
Chris Christie
Christie, speaking on Aug. 12—about a week before Trump's proposal —was asked about birthright citizenship during a radio appearance with conservative host Laura Ingraham and said the matter deserves another look.
"I think all this stuff needs to be reexamined in light of the current circumstances," New Jersey's governor said. "The fact is the American immigration system is not working right now, it's not working for the American people, it's not working for our economy, and all these things need to be reexamined in light of the current circumstances.  And while [birthright citizenship] may have made sense at some point in our history, right now, we need to relook at all that. And it has to be relooked at in respect to the rule of law."

Mike Huckabee
In 2010, Huckabee was asked about birthright citizenship during an interview with NPR's Tom Ashbrook, where he was asked if he would favor repealing parts of the 14th Amendment. Huckabee said at the time:
"No. Let me tell you what I would favor, I would favor having controlled borders...but that's where the federal government has miserably and hopelessly failed us."
John Kasich
The Ohio governor, who is focusing his 2016 efforts on the first-in-the-nation primary state of New Hampshire, recently said he has changed his views on birthright citizenship, which he supported ending while he served in Congress. 
Asked why he had moved from his previous stance, Kasich said, "When I think about it, I don't believe it should be a fundamental part of this whole thing because I think it remains dividing to people, to be honest with you....I think we need to get over that. I'm not for it anymore. Let these people who are born here be citizens and that's the end of it. I don't want to dwell there anymore."
Rick Santorum
"Other enticements to illegal immigration, such as birthright citizenship, should be ended," former Pennsylvania Senator Santorum said in an op-ed for Breitbart published May 6. "Only children born on American soil where at least one parent is a citizen or resident aliens is automatically a U.S. citizen. Of developed countries other than the United States, only Canada has birthright citizenship."
Rand Paul
In 2011, the Kentucky senator joined forces with Louisiana Senator David Vitter to introduce a resolution to ensure "a person born in the United States to illegal aliens does not automatically gain citizenship."
"Citizenship is a privilege, and only those who respect our immigration laws should be allowed to enjoy its benefits," Paul said at the time. "This legislation makes it necessary that everyone follow the rules, and goes through the same process to become a U.S. citizen."

George Pataki
The former New York governor was very clear about his stance against ending birthright citizenship.
"I don't support amending the Constitution to kick out kids who were born here," he said Tuesday on MSNBC. 
Rick Perry
Interviewed Tuesday on Fox News, the former Texas governor made it clear that amending the U.S. constitution is not in the cards. 
"Well here's the real issue. If you're saying will you do away with the 14th Amendment, I think you need to look back at a little bit of history," Perry said. "When's the last time we changed the constitution of this country, and it was back in the early 90s and it took 202 years to do that. So I'm a governor who has to deal with finding solutions to problems I know how to deal with solutions and it's not changing the constitution, that's political rhetoric."
Ben Carson
The neurosurgeon outlined his views on the topic at a rally in Phoenix on Tuesday.
"I know the 14th Amendment has brought up recently, about anchor babies—and it doesn't make any sense to me that people could come in here, have a baby and that baby becomes an American citizen. There are many countries in the world where they simply have recognized that and don't allow that to occur," Carson said.  
Ted Cruz
When the Texas senator was asked Wednesday on the Michael Medved show if the 14th Amendment should be changed, Cruz answered "absolutely."
 "We should end granting automatic birthright citizenship to the children of those who are here illegally," he said.
Jim Gilmore
On Tuesday, the former Virginia governor released a statement against ending birthright citizenship, calling the proposal a "dangerous step that undermines American liberty."
 "Sending this message to young Americans of foreign heritage is the cheapest sort of political pandering and political opportunism," Gilmore said. "The 14th Amendment to the Constitution was written after the Civil War to make it very clear that every person born in this country has a right to citizenship. It is an important principle that has stood the test of time and to attempt to repeal it now would set our nation back."
Before it's here, it's on the Bloomberg Terminal.
LEARN MORE