Ten Years After Katrina, Obama to Declare Rebirth in New Orleans
Angela Greiling Keane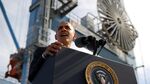 A decade after Hurricane Katrina decimated New Orleans, President Barack Obama will travel to the city and declare its recovery a success story.
The 2005 hurricane broke levees and flooded more than 80 percent of the city. More than 1,500 people died, and the storm caused as much as $150 billion in damage, according to a U.S. Senate report. Hundreds of thousands of people lost their homes.
Obama will travel to New Orleans on Aug. 27, the White House said Wednesday in an e-mailed statement. He'll meet with New Orleans Mayor Mitch Landrieu and local residents and review his administration's efforts to help the city return to life.
Landrieu called New Orleans a "comeback city" in a speech on Tuesday at the National Press Club in Washington, citing progress reducing crime and building affordable housing since the storm.
Before it's here, it's on the Bloomberg Terminal.
LEARN MORE