Rick Perry Arrives at Iowa Fair No Longer a Political Rock Star
His visit this year is likely to stand in stark contrast with the political electricity he generated four years ago.
by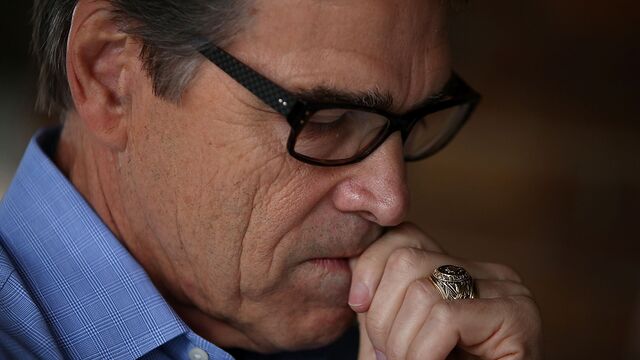 If all it took to win the White House was a spectacular showing at the Iowa State Fair, Republican Rick Perry might be in a very different place now.
Scheduled to make his return Wednesday to the quintessential Iowa gathering where he made his debut almost exactly four years ago as a top presidential hopeful, the former Texas governor now finds himself adrift in the crowded race for the White House. 
His visit is likely to stand in stark contrast with the political electricity he generated back then, oozing enthusiasm and displaying a fairgrounds ease only the most talented retail politicians can summon. And the stakes are potentially even higher now, with his campaign low on money and whispers circulating that he might drop out before the Feb. 1 Iowa caucuses.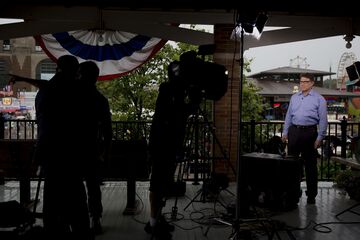 Ahead of his sequel at the Des Moines Register's political soapbox, Perry spent Tuesday afternoon chatting with reporters, flipping pork chops and reminiscing about his auspicious start four years ago. 
"There were a lot more people than there are at this particular point and time," Perry said in an interview.
As he made his way to the pork association grill, the dozen or so volunteers and staff members with Perry generally outnumbered those who gathered around him to shake his hand or snap a photo. Unlike many of the other candidates in recent days, he didn't have or need Iowa State Patrol escorts.
Perry offered wisdom when asked if returning in this fashion was humbling, after arriving as a political rock star four year ago. "Humbling things in life happen all the time," he said. "They're not necessarily bad things. I think Americans judge people by how they respond when they get knocked down, and I've been knocked a few times and managed to get up."
In the latest CNN poll of likely Republican Iowa caucus participants, Perry stood at just 1 percent. Asked if those numbers make him feel knocked down, he said, "not really, this is a long process."
Those who follow Iowa politics say Perry needs something to give his campaign some energy. "Perry will need to generate some buzz at the Iowa State Fair, with both Iowa voters and the media to help improve his poll numbers," said Dianne Bystrom, a political science professor at Iowa State University.
"Still, Perry is adept at the retail style of politicking preferred by most Iowans," she said. "He seems more comfortable as a candidate in 2015 than in 2011 and, so far, he has avoided an 'oops' moment."
His struggles to raise money won't drive him out of the race, Perry said. "Most of us have had chances in our life to find ourselves a little short of cash, whether it's in our personal lives or in our business lives," he said.
"You gotta cut your spending, get your spending under control," he added. "That's what we're doing. I can have a pretty small footprint."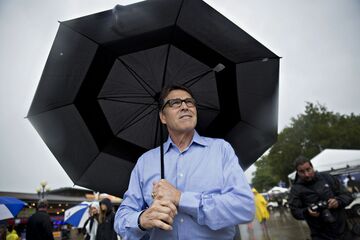 With the exception of former Senator Rick Santorum of Pennsylvania, Perry has spent more time in Iowa than any other Republican candidate, the Register's candidate tracker shows. But the political realities on the ground appear to have changed, and not just for Perry. Santorum, who won the 2012 caucuses, was also at 1 percent in the CNN poll.
Perry's current campaign situation contrasts with his late entry in the 2012 Republican primary race. After his August 2011 announcement, he surged ahead of eventual nominee Mitt Romney in polls.
Full of bravado and swagger, Perry's introduction to Iowa's fair unfolded on what was just the third day of his announcement tour, Aug. 15, 2011. A mob of reporters followed him everywhere he went on the fairgrounds, from the animal barns to a booth honoring veterans to the life-sized butter carving of a cow.
All along the way, Perry answered reporter questions, including whether the gun-rights advocate was packing heat that day. It was as if he was trying to make up for lost time, after entering the race so late. He ate a pork-chop-on-a-stick and backslapped, shook hands and hugged his way across the fairgrounds for hours.
Perry exhibited such confidence that he even mockingly blew a kiss to the cameras, when a reporter asked him if he had anything to say to Romney. "Give him my love," he said.
That's one that Perry now says he wishes he could take back. "I took his bait and I should have been a little bit more hospitable in my comment," he said. "That was an inappropriate thing to say."
Perry was mocked by Democrats after photos ran nationally from that day that showed him biting into a corndog in what some labeled a sexually suggestive way.
"You learn not to go over there and take that corny dog while there's a lot of TV cameras around," he said, as he walked past a corn dog stand. "I think you have to be at the fair once, doing this, to learn the do's and don'ts."
When a heckler challenged Perry in 2011 at the soapbox, he deployed a trick he'd learned on the Texas A&M yell squad and asking whether there were any Aggies in the crowd. On cue, the heavily Republican audience applauded and the heckler was quieted.
"We don't need anybody apologizing anywhere in this world about America," Perry said from the stage at another point, in an apparent reference to President Barack Obama. "I get a little bit passionate about that. That's OK. I think you want a president that is passionate about America, that's in love with America."
Bob Haus, Perry's top Iowa advisor, said his candidate relates to rural fairs like few other presidential candidates because of his agricultural background. "This is an environment he understands," he said. "He's the best retail politician I have ever been around."
Before it's here, it's on the Bloomberg Terminal.
LEARN MORE