Oscar Robertson Looms Large Among Investors Urging Ohio Pot
Mark Niquette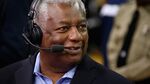 Investors including basketball star Oscar Robertson and two descendants of President William Howard Taft stand to profit from Ohio's marijuana trade if voters legalize the drug and restrict its farming to 10 sites.
The group ResponsibleOhio, begun by the financial backers as well as advocates of legal pot, placed a proposed amendment on the Nov. 3 ballot legalizing medicinal and recreational marijuana for adults. The Ohio measure includes a first for a U.S. state: It would place control of marijuana cultivation in the hands of designated investor groups, which include the 6-foot-5 Hall of Fame guard and the presidential scions.
Proponents tout the vision of a regulated industry endorsed by residents and enabled by early investors. A coalition of opponents, including elected officials, children's hospitals and business groups, are fighting the proposal on the grounds that investors shouldn't get an exclusive claim to profit. Seeking to block the measure, the Ohio Legislature placed a competing amendment on the ballot to prevent the constitution from being used "to grant a monopoly, oligopoly or cartel."
"This is not about the freedom to smoke marijuana; it's all about money," former Ohio Attorney General Betty Montgomery, a Republican, said Monday after the opposition campaign kick-off in Columbus. "To buy a franchise in this constitution is deplorable."
Since 2012, Alaska, Colorado, Oregon, Washington and the District of Columbia have legalized marijuana for adult recreational use and 23 states have approved medical pot, according to the National Conference of State Legislatures.
While states often limit the number of marijuana businesses, Ohio would be the first to restrict growing sites using its constitution, said Chris Lindsey, an analyst for the Marijuana Policy Project in Washington.
The measure would allow wholesale growing locations to supply retail outlets and manufacturers of pot products, with the potential for additional growing sites if demand warrants, ResponsibleOhio said. The measure also creates a nonprofit medical dispensary system.
Ten investment groups put up $4 million each, half for land acquisition and site development and half for the campaign to get the issue on the ballot and pass it, said Ian James, executive director of ResponsibleOhio.
Tall Order
The group pursued a constitutional amendment after years of inaction by a hostile legislature, and because it's easier to supervise fewer sites, James said.
"Having an unregulated and an unlimited number leads you to the Wild West of weed," James said. "Ohio wants and demands and deserves a strongly, tightly regulated marijuana industry."
Among the 23 investors identified by ResponsibleOhio is Robertson, 76, known as "The Big O." He played for the Cincinnati Royals and Milwaukee Bucks and was the longest-serving president of the National Basketball Association Players Association.
Robertson declined to speak about the plan when reached at his Cincinnati home. A ResponsibleOhio release in January quoted him saying he joined the campaign because medical marijuana "can give our loved ones relief."
The Taft brothers, Woody and Dudley Jr., are descendants of the 27th U.S. president, a Cincinattian known for his impressive girth and return to public life as chief justice of the Supreme Court.
Woody Taft is vice president of development at the Taft Broadcasting Co., while Dudley Taft Jr. is a musician, ResponsibleOhio said. The Tafts didn't return phone and e-mail messages seeking comment on the measure.
Woody Taft said in a ResponsibleOhio release in March that "it's time for Ohio to reform this failed prohibition."
Invisible Hand
Investor Alan Mooney, principal of Mooney Wealth Advisory Inc. in suburban Columbus, said additional growing sites will be needed and that initial investors will get a lead in return for lending the industry momentum. The federal government considers marijuana illegal and banks are reluctant to provide financing.
"Capitalism became the only choice to get it done," Mooney said, adding that he plans to sell only to medical dispensaries.
James of ResponsibleOhio said each group will spend as much as $40 million to build facilities. Growers' gross annual revenue could exceed $1 billion, according to a campaign prospectus.
Besides the investors named by ResponsibleOhio, at least 29 others have paid a combined $2.9 million for shares offered by two of the corporations controlling the sites, according to U.S. Securities and Exchange filings.
Eighty-four percent of Ohioans said in a Quinnipiac University poll released April 6 that they support marijuana for medical purposes, and 52 percent back it for personal use.
Still, all Republican statewide elected officials, including Governor John Kasich, a presidential candidate, oppose the measure.
The Ohio Chamber of Commerce announced its opposition to the issue today and said it would spend $100,000 to defeat it, plus $50,000 in support of the amendment banning constitutional monopolies.
The chamber doesn't support allowing "some wealthy people to buy their way onto the ballot," President Andrew Doehrel told reporters in Columbus.
James said ResponsibleOhio will promote the issue with television ads and help from groups including 270 Strategies with Jeremy Bird and Mitch Stewart, veterans of President Barack Obama's campaigns.
One feature of the campaign is the promise of $554 million in annual tax revenue by 2020. It would be dedicated to local governments for uses such as infrastructure repairs -- filling "potholes with pot money," James said.
Before it's here, it's on the Bloomberg Terminal.
LEARN MORE