Huckabee Hunts for Funds, Support in Israeli West Bank Settlement
The Republican candidate takes issue with official U.S. policy that views the West Bank as a future Palestinian state.
by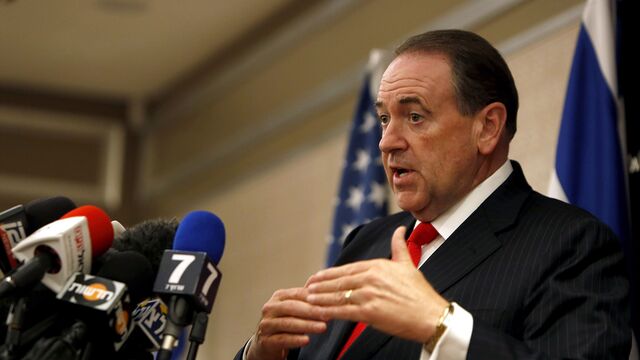 Republican presidential candidate Mike Huckabee is seeking funds and support in a community the U.S. and virtually every other country in the world condemns as an impediment to peace.
The former Arkansas governor and Fox News commentator held a fundraising event Tuesday in the Israeli settlement of Shilo, deep in the heart of the West Bank between the Palestinian cities of Ramallah and Nablus. Speaking to journalists in Jerusalem on Wednesday, Huckabee was unapologetic about his visit.
"I wasn't in the least hesitant to go to Shilo, in part because 3,500 years ago it was the capital of Israel, it was the seat of the Tabernacle, it is a place of great connection to the history of the Jewish people," Huckabee said. He took issue with official U.S. policy that views the West Bank as a future Palestinian state, saying land-for-peace deals had gained Israel neither and adding that "the notion of two governments working the same piece of land is unrealistic and unworkable." 
Visiting Israel to aid a Republican presidential primary bid is nothing new; Mitt Romney held a fundraising event in Jerusalem's ritzy King David Hotel in July 2012, with a crowd that included megadonor Sheldon Adelson. In venturing to Shilo, Huckabee could energize supporters in the Christian evangelical base who helped him emerge as the winner of the 2008 Iowa caucuses and view Jewish settlement of the West Bank as a fulfillment of biblical prophecy.
"Israel is an important issue, certainly for the evangelical community, but I think it's important for all Americans," Huckabee said. He pointed out he's visited the country "dozens of times" since first coming when he was 17, insisting his connection to Israel "is not so much political as it is visceral, personal."
Huckabee's Shilo event was sponsored by Simon Falic, an American-Jewish supporter of both Republican candidates and right-wing Israeli politicians. The Falic family, which owns the Florida-based Duty Free Americas Inc. chain of airport shops, was the largest contributor to Israeli Prime Minister Benjamin Netanyahu's last re-election bid as Likud party head and invests in a winery next to the settlement of Psagot.
Huckabee has also held meetings with various government officials while in Israel, including Netanyahu. The Israeli leader was criticized during the 2012 election season by opponents at home and in the U.S. for supposedly signaling his support for Romney by deliberately ramping up his public disagreements with President Barack Obama over Iran.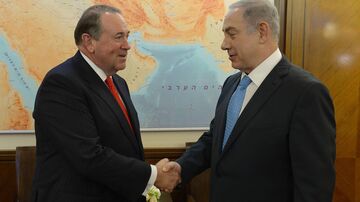 "I want to make clear there was no implicit or explicit endorsement" from Netanyahu, Huckabee said. "He made it very clear he has no intention of getting in the middle of American politics."
Huckabee wouldn't detail his discussions with Netanyahu and other Israeli leaders other than to say all expressed opposition to the Iran nuclear agreement, which he described as a "clear and present danger" to both Israel and the U.S. The candidate, who drew criticism last month for comparing the Iran deal to the Holocaust by saying it placed Israel at "the door of the oven," said a number of Israelis had come up to him during his two-day visit to commend him for "the candor and the clarity" of his remark.
Huckabee's campaign is badly in need of any kind of boost his Israel visit might provide, with some polls showing him as far back as ninth place in the February Iowa caucuses that will officially kick off the GOP nominating race. He put on an optimistic front, comparing front-runner Donald Trump to such 2008 candidates as Rudy Giuliani and Fred Thompson, who led the Republican pack in the months prior to the caucuses before fading away as Huckabee emerged to win Iowa.
"If you're hot when it's hot," Huckabee said, "then you're going to be cold when it's cold."
Before it's here, it's on the Bloomberg Terminal.
LEARN MORE