Frustrated by TSA Frisking at the Airport? Vent on Yelp
Toluse Olorunnipa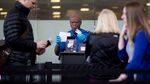 You can now rate the Internal Revenue Service or a Transportation Security Administration airport checkpoint just as you would a local diner or plumber.
In a new partnership with Yelp Inc., the U.S. government is inviting taxpayers to rate its services and leave comments about what they like -- or can't stand.
The General Services Administration and Yelp announced the new service this week, saying it will help federal agencies be more responsive to complaints and improve service. Reviewers will be able to rate things like the bathrooms at Yellowstone National Park, the Social Security Administration's customer service and local post offices.
"Adding customer satisfaction ratings and reviews to public services just got easier now that Yelp offers a terms of service for official government use," the GSA said in a statement on its digitalgov.gov website.
The new agreement gives a platform for those dissatisfied with the government to air their grievances. A Gallup poll in March found that Americans listed "dissatisfaction with government" as the most important U.S. problem -- topping terrorism, unemployment and immigration.
Yelp users have already vented on the platform.
'Unconstitutional Search'
"TSA agents would not let me board my flight unless I acquiesced to an unconstitutional search of my property and person," a Yelp user identified as Josh G. from Washington said in a posting Wednesday. "When I informed TSA agents that they might only search me if they obtained a warrant for a judge or placed me under arrest for some crime, they seemed utterly befuddled."
He gave the checkpoint at Ronald Reagan Washington National Airport only one of a possible five stars.
Luther Lowe, vice president of public policy at Yelp, said the GSA approached the San-Francisco-based company with the idea.
Under the agreement, the company will strip advertisements from the new "Public Services and Government" section. Yelp was willing to forgo some revenue in order to provide more options to its users, who tend to gravitate toward restaurant reviews, Lowe said.
"Imagine a town with two post offices, and one of them has slower lines than the other one," he said in a phone interview. "This is a way for consumers to maybe steer clear of the one that's going to take them longer to transact."
Kayak, Amazon
The Obama administration has sought to use technology to make government operate more like the private sector in recent years, including creating a Web-based exchange for health care that the president compared with sites such as Kayak or Amazon.com. After the health-care site initially struggled to meet those comparisons, President Barack Obama ramped up efforts to bring more tech leaders into government.
Obama signed an executive order on Monday making permanent his Presidential Innovation Fellows program. The program recruits people from the private sector to help improve how the government uses technology.
Growing wait times for customer support at the IRS and intrusive bodily inspections by the TSA have long drawn complaints from taxpayers, both online and in person. Both Yelp and the federal government said allowing customers to rate the government services would help agencies respond in real-time.
"As this agreement is fully implemented in the weeks and months ahead, we're excited to help the federal government more directly interact with and respond to the needs of citizens," Yelp said in a statement.
Before it's here, it's on the Bloomberg Terminal.
LEARN MORE