Donald Trump Has Republican 'Reformicons' Worried
A group of conservative policy wonks does not like the way the GOP primary is shaping up.
by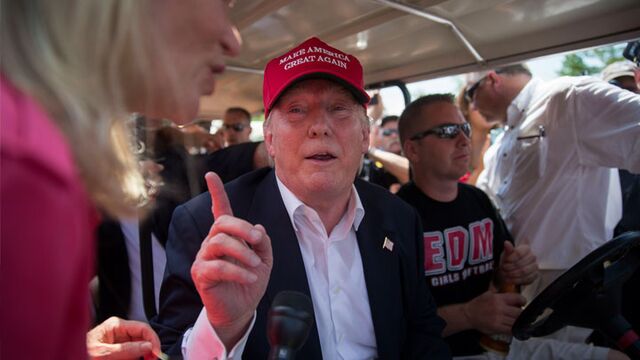 As the curtain rose on this presidential election cycle, Republicans promised a deep bench of candidates and a new generation of policy proposals.
They got the bench. The new ideas, on the other hand, are few and far between.
"Policy isn't playing a big role right now," said Michael Strain, an American Enterprise Institute economist and member of a group that dubbed itself the "Young Guns" and that outside commentators have tagged "reformicons" who want to shake up the campaign with fresh conservative policies. 
"I'm cautiously pessimistic we'll have a real debate about our vision for the country," he said.
Strain's immediate worry is real-estate magnate Donald Trump, who's powered to front-runner status among Republicans with an anti-immigrant, anti-Washington message that's light on proposals.
The Trump campaign issued its first position paper Sunday on curbing illegal immigration and promised a second one on taxes. But the candidate himself seemed to dismiss the new document almost as soon as it was released, telling a reporter, "I know the press wants it. I don't think the people care."
With Trump showing almost no interest in specifics and a continued ability to keep the TV cameras trained on him, Strain said other Republican contenders have had little choice but to mothball most of their policy prescriptions for now.

"When all anybody wants to talk about is the latest thing Trump said, you know if you roll out your suite of economic proposals nobody's going to notice," he said.
Strain is not the only reformicon with a case of nerves. To one degree or another, virtually everyone in his circle of mostly 30-something conservatives interviewed in recent days expressed apprehension that the Republican contest could degenerate into the negative, policy-light brawl of four years ago, something party officials and policy advocates had sought to avoid.
"A reasonable case could be made for a purely oppositional campaign in 2012. There was an incumbent and the idea was to make the race a referendum on the incumbent," said Ramesh Ponnuru, a senior editor for the conservative National Review magazine and columnist for Bloomberg View.
"But this is an open campaign with no incumbent," he said. "It's just crazy to run without an agenda."
It wasn't supposed to be this way.
Before the campaign's start, liberals such as syndicated columnist E.J. Dionne praised the reformicons for acknowledging problems like income inequality even if they found the group's solutions weak. The New York Times photographed Strain and his colleagues arrayed around a table at historic Gunston Hall in Virginia as if they were wonkish successors to the Founding Fathers.
Even the unexpected primary election loss of the Young Guns' organizer, former House majority leader Eric Cantor in June, 2014, didn't stop the group; it's continued issuing new policy proposals, many of them provocative.
At a time when Democrats want to raise the federal minimum wage, Strain has proposed eliminating it for jobless workers to encourage employers to hire them, and making up the difference in wages with tax subsidies.
Arguing Social Security and Medicare discourage people from having children because kids are no longer needed as a source of care in old age, former Bush Treasury official Robert Stein has proposed boosting the child tax credit of $1,000-per-child by $2,500.
Concerned about student debt, AEI official Andrew Kelly wants to let investors take equity interests in students' income for years after they graduate.
At the outset of the campaign, the reformicons seemed to be making in-roads with Republicans.
Former Florida Governor Jeb Bush and former Texas Governor Rick Perry effectively endorsed eliminating the minimum wage. Senator Marco Rubio of Florida embraced the child tax credit expansion. But as Trump surged this summer, the rest of the Republican field slipped into a policy holding pattern.
Few candidates have delivered policy speeches in recent months or, if they have, gotten much coverage. Several, including Bush, Ohio Governor John Kasich and, until Tuesday, Wisconsin Governor Scott Walker have all but dispensed with any mention of policy on their campaign websites.
The process culminated in the Aug. 6 Republican debate that many in conservative policy circles found discouraging.
"That was a very policy-light debate, at best," said James Pethokoukis, another AEI official and member of the reformicon circle. "It was a retreat from policy."
Ultimately, the retreat may prove temporary. Policy and the reformicons may re-emerge as important factors.
After all, it's the summer of the year before the election. "I feel like I have time," said Kate O'Beirne, a veteran Washington conservative, television commentator and adviser to the reformicons. "It's early."
Still, there are some powerful forces working against the reformicons—and policy advocates of all stripe—getting back in the fray.
The Web and social media, which play an ever-greater role in presidential politics, are ill-suited for policy debate.
The problem is apparent on the websites of candidates such as Perry. The Texan broke pattern by delivering several summertime speeches on, among other things, economic growth.  
But look under that heading on his website and the entry in its entirety is: "We need to grow the economy, so that every American can find work, and that those who already have work can earn more." The speech is nowhere in sight.
"What's you're seeing is that the Web is very metric-driven," said Patrick Ruffini, a co-founder of Echelon Insights, a Virginia-based research and analytics firm, and former digital strategist for former President George W. Bush's 2004 campaign and the Republican National Committee. Anything that takes more than a few seconds to digest, including speeches and position papers, doesn't "get the clicks," he said.
While Ruffini advises candidates to resist turning their position papers into "click bait," he acknowledges only limited success. As a result, he said "the content of campaign websites has declined dramatically."
As candidates rely more heavily on e-mails, Twitter messages, Facebook posts, Instagrams and Snapchats, the room for policy proposals, including those from the reformicons, is shrinking.
Getting voters to consider policy also requires convincing them there are reasons to be "optimistic and aspirational," said Arthur Brooks, the president of AEI, which has housed and staffed much of the reformicons' work.
But the rise of Trump among Republicans and of Senator Bernie Sanders of Vermont among Democrats suggests that many voters this time around are driven by outrage and bitterness, Brooks said.
"The worst-case scenario is we end up with an angry party and an envy party. Then Americans have no choice that's good for the nation," he said. And the reformicons are have little chance of winning a new audience for their proposals.
Finally, there's a key matter of timing.      
"Everybody on the campaigns is saying 'What's happening now doesn't matter,'" according to Yuval Levin, the editor of National Affairs magazine and a leader of the reformicons. "That's why you have a lot of Republican candidates who are well-funded and staffed up, but haven't said much to the public at this point."
Levin said the campaigns may be making the correct political call, but he worries that voters' impressions of candidates can get set early on in a campaign.
"The longer there's a policy vacuum," he said, "the more of a problem it is to change them."
Before it's here, it's on the Bloomberg Terminal.
LEARN MORE