China's Yuan Move Just a Passing Squall in Sino-U.S. Relations
David J. Lynch and Mike Dorning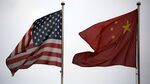 China's sudden currency devaluation this month raised new questions about whether U.S. President Barack Obama would shift from maintaining a wary truce with his country's No. 2 trading partner to confronting it head-on.
Sino-U.S. ties already were frayed by Chinese muscle-flexing in the South China Sea, cyber-espionage and human rights disputes. A potential currency war raised the prospect that relations between the world's two biggest economies would plunge into a deep freeze.
That hasn't happened -- nor is it likely to.
"The administration has no strategic interest in a split with China or a more difficult relationship with China right now," says Jeffrey Bader, who advised Obama on China policy at the National Security Council. "China, from the administration's perspective, can be helpful."
Chinese cooperation on issues from Iran to climate change - - major priorities for Obama -- is too valuable to the U.S. for a blip in currency valuations to spark a showdown.
While the relationship long has been contentious, debate over Chinese intentions has escalated this year, bringing four decades of engagement to a "tipping point," according to veteran China analyst David Lampton of Johns Hopkins School of Advanced International Studies.
Just last week, a top State Department official warned of a "growing sense of alarm" in the U.S. over Chinese human rights practices.
State Visit
The summer squall over the yuan seemed spectacularly ill-timed, coming little more than a month before Chinese President Xi Jinping is scheduled to arrive in Washington for a state visit.
"The Obama administration has tried to maintain stability in its relationship with China, and I think it's becoming more and more difficult," says Nicholas Burns, a former undersecretary of state for political affairs in the Bush administration. "The competitive phase of the relationship is becoming much more pronounced."
Obama is resisting calls to take a tougher stance, which are coming from some military officers and foreign policy experts as well as Congress, according to a White House official, who asked not to be identified discussing internal deliberations.
One of the most serious irritants in the relationship is intrusions by Chinese hackers into U.S. computer networks.
Cyber Hacking
The U.S. took the extraordinary step last year of indicting on charges of economic espionage five officers in the People's Liberation Army for hacking into computers belonging to companies such as Westinghouse Electric Co., U.S. Steel Corp. and Alcoa Inc.
This year, hackers whom authorities have linked to the Chinese government broke into the Office of Personnel Management's computers and made off with personal data on more than 20 million current and former government employees.
U.S. national security concerns have recently been matched by worries over China's economic performance. With China's economy growing at its slowest pace in two decades, officials in Beijing were spooked by this summer's one-third plunge in the Shanghai Composite Index and intervened massively to arrest the decline.
Likewise, last week's yuan devaluation, coupled with a technical change that gives the market a greater say in the currency's value, confused onlookers, said David Dollar, a former Treasury Department official in the U.S. embassy in Beijing.
Yuan's Valuation
The decline of roughly 3 percent in the yuan's value last week probably was too small to affect trade flows much, economists said. That compares with the 13 percent rise in the yuan's real effective exchange rate -- a measure that's adjusted for inflation and trade patterns -- over the last four quarters, the highest among 32 major currencies tracked by the Bank for International Settlements.
It's a measure of the complexity of the relationship that even when China does something the U.S. has asked it to do -- rely more upon market forces to set the value of its currency -- tensions spike.
Members of Congress from both parties accused Chinese officials of manipulating the yuan to gain a trade advantage amid a deteriorating economy. On the campaign trail, Republican presidential candidates piled on, with front-runner Donald Trump saying the move would be "devastating" for the U.S.
The chronic bilateral irritation reflects a persistent lack of trust between the two countries, according to longtime China-watchers.
'Stagnating' Relationship
"The economic relationship is stagnating to some extent," Dollar said. "That creates a poor foundation for dealing with these kind of events."
A yawning trade deficit that's running ahead of last year's $343 billion pace; China's failure to join the World Trade Organization's government procurement regime; and sluggish negotiations on a proposed bilateral investment treaty all contribute to the sense of drift, Dollar says.
Chinese leaders are eager for the yuan to become a global reserve currency alongside the U.S. dollar, a likely explanation for their Aug. 11 move, which followed an International Monetary Fund recommendation.
The potential for friction is only growing as China grapples with the challenges of a comprehensive economic transformation and the U.S. enters the political season.
Since becoming China's top leader in 2013, Xi has cracked down on official corruption, asserted China's control of adjacent seas and begun overhauling the country's economic model.
'Hard Bones'
Signaling his intent to effect historic reforms, Xi has urged subordinates to "gan yu ken ying gutou" or "dare to chew the hard bones," a colloquialism meaning take on difficult tasks.
To maintain domestic calm, Xi has led an ideological crackdown, jailing lawyers, harassing foreign nongovernmental organizations and tightening controls on the press and Internet.
As he prepares for his first state visit as China's president, Xi has his own complaints about the U.S. China's official state-owned media accused the U.S. last fall of instigating the "Occupy Central" protests in Hong Kong.
An Aug. 3 State Department solicitation for proposals to advance democracy and human rights in China -- saying "projects should have a direct and lasting impact by promoting reforms and structural changes" in Chinese society -- also gives the Chinese leader reason to doubt U.S. intentions.
"The top leadership is very focused on domestic stability," says Kenneth Lieberthal, who was head of Asian affairs in the Clinton White House. "They're wrestling with how to bring about major change without losing control -- and they're not always doing that very effectively."
Lieberthal, now a senior fellow at the Brookings Institution, says China's daunting economic challenges mean the Xi government is "doing things in ways that are not always positive for the U.S. relationship."
Before it's here, it's on the Bloomberg Terminal.
LEARN MORE