Painted Topless Women in Times Square May Get Boot by Mayor
Henry Goldman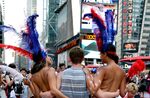 New York Mayor Bill de Blasio vowed to rid Times Square of the painted topless women who have joined the costumed "Sesame Street" characters and superheroes who demand that tourists give them money for photo opportunities.
"This is a situation that I don't accept, and we will deal with it very aggressively," de Blasio said Tuesday during a City Hall news briefing.
The mayor said that while he's aware and supportive of free-speech guarantees that protect panhandling and bare-breasted women in public, the city has the power to regulate business transactions.
The New York Daily News this week described the situation as a "recent explosion of scantily clad women" adding to the presence of characters dressed as Elmo or Spiderman who demand money from passersby. The New York Post, a frequent critic of the Democratic mayor, calls them extortionists.
On at least one recent occasion, a tourist videotaped an encounter between a costumed character and a pedestrian that turned into a fistfight.
An Aug. 6 Quinnipiac University poll of city voters found that 49 percent perceive the quality of life worsening in the past few years. De Blasio took office in January 2014.
The mayor said he would ask the City Council for laws to prohibit some business practices.
In 1992, the New York Court of Appeals, the state's highest tribunal, ruled that laws prohibiting only women from exposing their breasts in public were discriminatory. Representatives of the New York Civil Liberties Union weren't immediately available to discuss the issue.
"There's some things we can do right away and some things that may need city legislation," the mayor said. "We have a group of agencies, including the New York Police Department, Consumer Affairs, working on a different vision for how we're going to approach Times Square, and you're going to see some changes soon."
Before it's here, it's on the Bloomberg Terminal.
LEARN MORE