Chris Christie's Political Ambitions Confront Need for U.S. Tunnel Aid
Terrence Dopp and Jeff Plungis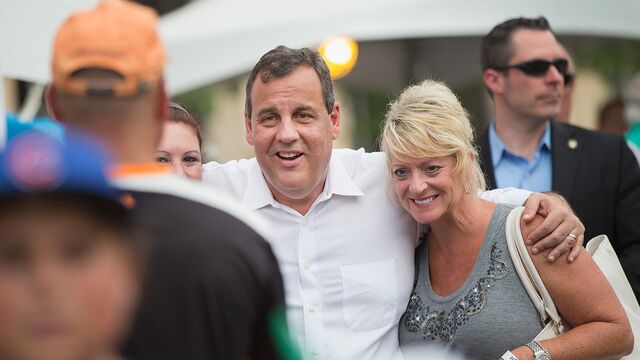 Governor Chris Christie's effort to win the Republican presidential nomination could be at odds with a looming New Jersey transportation crisis that may force him to seek billions of dollars in federal money for a new rail tunnel.
A rash of recent delays on New Jersey Transit trains has revived talks on Gateway, a $16 billion link under the Hudson River meant to ease Manhattan commuter congestion. Christie, scheduled to meet Tuesday with U.S. Transportation Secretary Anthony Foxx, has said the federal government must contribute more than it initially pledged.
Any Gateway funding plan would need approval from the Republican-controlled Congress, which has been reluctant to back rail spending. Christie would likely have to lobby U.S. lawmakers for financial support at the same time he tries to convince voters he's fiscally conservative, and as riders blast him on social media for killing a tunnel in 2010 that would have doubled peak service to Manhattan.
"I'm not sure whether asking for several billion dollars in federal money is the best way to win the Republican nomination," said Ben Dworkin, director of the Rebovich Institute of New Jersey Politics at Rider University in Lawrenceville. "It would certainly be awkward."
In a July 27 letter to Christie and New York Governor Andrew Cuomo, Foxx said Gateway "will not become a reality without your active participation and willingness to prioritize it."
On Aug. 7, Cuomo said the federal government had made an unacceptable offer of only a loan. He won't attend Tuesday's meeting in Newark, a spokeswoman said. New Jersey's U.S. senators, Democrats Cory Booker and Robert Menendez, both planned to be there.
Fair Share
Amtrak, the national railroad, owns the tracks used by New Jersey Transit and the equipment blamed for the delays. It wants the federal government to foot 80 percent of Gateway's cost, said Stephen Gardner, executive vice president for Amtrak's Northeast Corridor business development.
The two existing tunnels below the Hudson are more than 100 years old and at capacity. Damaged by Hurricane Sandy in 2012, they have fewer than 20 years of service left, Amtrak Chief Executive Officer Joseph Boardman said last year. Each need to be closed at least a year for an overhaul.
Until repairs are complete, service disruptions are "not likely to be entirely preventable" and "likely to increase," Gardner said.
On Monday, commuters faced delays on multiple fronts after a vehicle fire in the Lincoln Tunnel and a disabled train in one of the tubes under the Hudson. Emergency repairs early Tuesday kept a crew from work replacing faulty power cable and led to the cancellation of a media tour of the tunnel.
A signal falsely indicated a train was in the south Hudson tube about 11 p.m. Monday, leading engineers to detect a circuit in need of welding, said Marc Magliari, an Amtrak spokesman. The work was expected to be complete for Tuesday's rush-hour commute.
Riders in recent weeks have directed their frustrations at Christie, 52, who rose to prominence among Republicans with his calls for smaller government. In 2011, he turned down pleas from some Republicans to run for president the following year.
In 2012, Christie angered some within his own party when he praised the president after Hurricane Sandy devastated New Jersey's coastline. Some Republicans also were aggrieved when Christie criticized congressional party members for delays in approving disaster aid.
2016 Race
Since Christie entered the presidential race on June 30, he has spent more than half his time campaigning outside of New Jersey. The RealClearPolitics average of national polls has him tied for 10th place with Ohio Governor John Kasich among Republicans.
One of Christie's earliest moves that met with enthusiasm in his party was his decision to kill plans to build New Jersey Transit its own tunnel. Christie said the federally led Access to the Region's Core, or ARC, was ill-conceived and left his state on the hook for cost overruns. It would have opened beginning in 2017. Gateway will take at least a decade.
"If the federal government wants to step up and be a full partner, I think Governor Cuomo and I are ready to be full partners," Christie told reporters in New Hampshire last month.
The Gateway talks come amid a backdrop of complicated rail politics in Washington. A bill to govern surface transportation projects for the next six years that the Senate passed last month doesn't include any new funding for rail -- meaning Amtrak would have to continue deferring work on major infrastructure projects.
Tea Party-backed Republicans are resistant to large government projects. The transportation bill in previous eras had been one of the easiest things for Congress to pass. In the past six years, attempts to renew the spending plan have broken down repeatedly. Instead, there have been 34 short-term patches.
The federal government's contribution to ARC was $4 billion, and it's hard to see how it could find much more than that for Gateway, said Paul Lewis, director of policy and finance at the Eno Center for Transportation in Washington.
"It's a national issue, it's a regional issue, and it's an economic issue," he said. "Any kind of major shutdown is very problematic."
Before it's here, it's on the Bloomberg Terminal.
LEARN MORE