Yes, Donald Trump Can Give All the Helicopter Rides He Wants
Free rides to kids doesn't count as vote buying.
by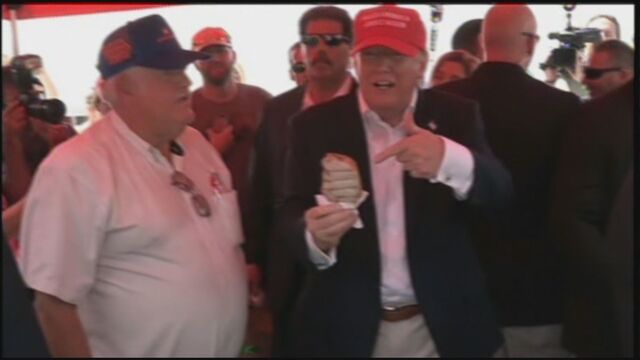 Over the weekend, Republican presidential candidate Donald Trump made waves by offering kids rides in his helicopter at the Iowa State Fair, positioning himself as something of a summertime Santa Claus by bringing joy to children through the magic of flight. 
The move perhaps smacked a bit of the classic school election sitcom plot, where the rich kid running for student office uses his resources to wow his classmates. After all, a 20-minute chopper ride over downtown Des Moines is valued at about $200, according to Groupon (but they can get you one for $110). So, does Trump's joyride constitute vote buying? Probably not. 
For one thing, the people who got the free rides were too young to vote, so there were no votes to buy, says Paul Seamus Ryan, senior counsel at the Campaign Legal Center. For another, Trump did not ask for anything in return for the rides. 
"My understanding is that Trump in no way conditioned the helicopter rides on voting for him, or even voting at all, so the helicopter rides don't even come close to the illegal-vote-buying line," Ryan said. "Even if they were offered to people of voting age, the rides don't constitute vote buying in my view. At the very least, the gift at issue needs to be connected to the actual act of voting or refraining from voting." 
Still, just because the stunt is legal doesn't mean it wasn't derided. As Trump hovered overhead, Sanders quipped, "I apologize, we left the helicopter at home." The crowd laughed appreciatively, though it must be said that some of the kids present might have preferred the helicopter ride. 
--Zachary Mider contributed to this report. 
Before it's here, it's on the Bloomberg Terminal.
LEARN MORE