Protesters Give Scott Walker His Moment at Iowa Fair
An angry demonstration at Iowa State Fair lets the Republican governor show off his "unintimidated" style.
by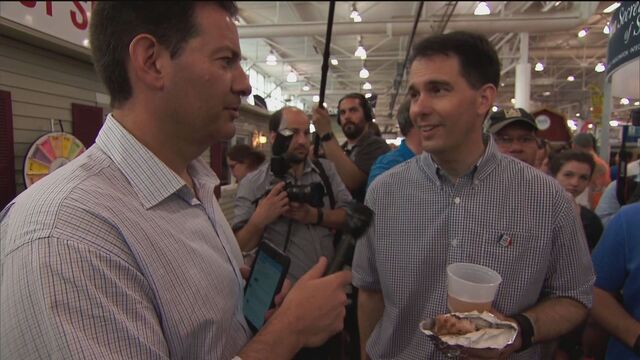 Wisconsin Governor Scott Walker outlasted the angry protest that surrounded the start of his Iowa State Fair visit on Monday, ending his tour with a pork chop in one hand and a beer in the other.
"This is what you call bringing Iowa and Wisconsin together," he said, holding grilled meat from the Iowa Pork Producers Association and a Summer Shandy from Wisconsin-based Leinenkugel's.
The pork and beer made for good pictures, but it was the protesters at the Des Moines Register's political soapbox that made Walker's day.
When several started shouting and holding up signs near the base of the stage where he stood, Walker unleashed a line he'd almost certainly prepared in advance.
"I am not intimidated by you, sir, or anyone else out there," he shouted at one protester near the stage.
"I will fight for the American people over and over and over and over again," Walker added. "You want someone who is tested? I'm right here. You can see it."

Walker's confrontations with public employee unions in his home state have galvanized labor opposition against him and created something of a rolling protest movement that follows him. The Iowa fair was no exception. But, as Walker's demeanor demonstrated, the protests also allow him to burnish his conservative credentials with the Republican base.
As Walker supporters pushed and sought to tear signs reading, "Don't let Scott Walker do to America what he did to Wisconsin," Walker never missed a beat, continuing his remarks with references to protests he faced in Wisconsin—at times totaling as many as 100,000 people .
"This is what happened in Wisconsin," he said. "We will not back down. We will do what is necessary to defend the American people going forward."
It was among the most dramatic political moments yet on the fairgrounds since Thursday, when the fair opened and presidential candidates started arriving in the first-in-the-nation caucus state. For the motorcycle-riding Walker, it was also a moment to show his political macho.
"I'm used to this," Walker said when asked whether he was fazed by the protests as he walked off the stage. "It's old-school to me."
Walker's visit came as his standing in Iowa and national polls has fallen following the summer surge of billionaire Donald Trump, the party's front-runner. Until the last few weeks, Walker had led in polls in Iowa, where the state nominating contests will start Feb. 1.
"We've said all along that this is going to be a long-term race," Walker said when asked by Bloomberg about his drop in Iowa. "The most important time to be ahead is on the day of the caucus."
Trump and the immigration proposal he unveiled Sunday hovered around Walker's visit to the fair, with reporters asking him on numerous occasions to clarify his views on the issue.
Walker was not always direct when asked variations of a question about whether he thinks children of undocumented immigrants should automatically have a right to American citizenship, if they're born in the U.S. Asked by an MSNBC reporter if he thinks "birthright citizenship should be ended," Walker seemed to agree that it should.
"Well, like I said, Harry Reid said it's not right for this country," he said. "I think that's something we should—yeah, absolutely, going forward." 
Senator Harry Reid, a Democrat from Nevada, in the early 1990s introduced legislation that would have clarified the 14th Amendment of the Constitution and revoked birthright citizenship. The Democratic leader has since moved away from that position and expressed regret for taking it.
Walker was then asked again by MSNBC if the birthright provision should be ended. "Yeah, to me it's about enforcing the laws in this country," he said. "And I've been very clear, I think you enforce the laws, and I think it's important to send a message that we're going to enforce the laws, no matter how people come here."
When asked whether children of undocumented immigrants should be deported, Walker said no. "I didn't say that—I said you have to enforce the law, which to me is focusing on e-verify," he said, referencing a system where employers check citizenship status of potential workers.
Ending birthright citizenship for the children of undocumented immigrants is part of Trump's immigration plan. On Monday, Walker told Fox News that his own immigration plan is "very similar" to Trump's.
Immigration has been a bit of a messy issue for Walker this year. He's been accused by some of of his Republican rivals of flip-flopping on the issue, after saying in March that his views had "changed" when it comes to "amnesty" for undocumented workers and that he no longer supported allowing them to remain in the country.  
Walker has long advocated for a more secure southern U.S. border, but at the fair he seemed to also back Trump's calls for building a wall there.
"It's a combination of infrastructure—the wall itself—but you also need to have technology and personnel as a part of that," Walker told reporters, before describing a border fence he saw earlier this year during a visit to Israel.  "If you have a fence that doesn't have personnel manning it, if you don't have the technology to make sure that the fence is secure, that people aren't over it or under it, then you've just built something that's ineffective."

Wearing Harley-Davidson motorcycle boots, blue jeans and a blue and white checkered shirt, Walker made his way through the fairgrounds. A few protesters initially followed him—one shouted "you suck, Scott Walker"—but eventually most fell away during his roughly four hours on the grounds. A veteran of making the political rounds at the Wisconsin State Fair, Walker was joined by his son, Matt, and wife, Tonette.
Not everyone recognized him. "Tell me who you are," one woman said as Walker shook her hand. 
At the pork pavilion, Walker flipped patties for sandwiches and admitted that his wife does virtually all the cooking at home. Tonette Walker seemed fine with that because mowing and taking out the garbage—things she and her husband said he does more of—are "not women's jobs."
If he had to do all his own cooking, Walker said he'd likely mostly have to depend on frozen pizza. "She says I'm boring," he said. "I say I'm predictable and stable."
—Mark Halperin contributed to this article. 
Before it's here, it's on the Bloomberg Terminal.
LEARN MORE