A Spherical View of Bernie Sanders (and Scott Walker, and Ben Carson) in Iowa
At this year's Iowa State Fair, 360-degree videos and photos are all the rage.
by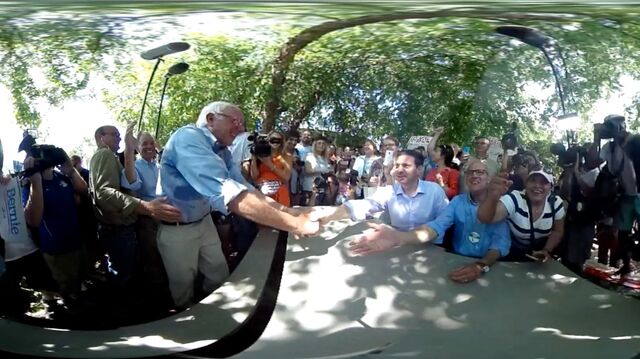 Using a 360-degree video camera, I captured Mark Halperin and John Heilemann's sit-down interview with Senator Bernie Sanders at the Iowa State Fair in Des Moines.
To immerse yourself in this scene, watch in the Chrome desktop Web browser, and use your mouse to drag the perspective from side to side and top to bottom and back again. On mobile, you can play the video in the YouTube app for iOS or Android, moving your smartphone around to change your perspective. 
Look left and right to follow the conversation with Sanders. Look up at 0:24 as the fourth and fifth boom mics drop in from above. At 0:47, turn around to see a cameraman turn on his light—or me, filming. At 3:49, the spectator behind John raises her hand to get Sanders' attention.
The camera I used—a $300 Ricoh Theta m15—stitches together images from its two 180-degree fisheye lenses to create a single spherical video or photo—like this one of Dr. Ben Carson leaving the soapbox stage Sunday.
Spherical video technology is in its infancy, so quality will improve with time. Photos from my camera are six megapixels of detail, but video resolution appears much lower, because the entire 360 degrees is captured to a single 1920x960 frame—that's technically high-definition video, but the viewer sees only one zoomed-in portion at a time. Below, a 360-degree photo of Governor Scott Walker and his large post-soapbox scrum.
The Des Moines Register is using an array of GoPro cameras to livestream 360-degree video from their soapbox stage on their website.
Before it's here, it's on the Bloomberg Terminal.
LEARN MORE