Flake Opposes Iran Deal, Reducing Hopes for Bipartisan Support
Jeanna Smialek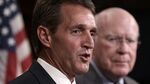 Senator Jeff Flake, an Arizona Republican, said Saturday that he opposes President Barack Obama's nuclear agreement with Iran, dimming hopes that the deal could acquire a bipartisan flavor.
"I cannot vote in support of this deal," Flake said in a statement on his website. "As written, this agreement gives Iran leverage it currently doesn't have."
Flake, who sits on the Senate Foreign Relations Committee, is seen as a maverick on foreign policy within his party and the Republican most likely to side with the administration on Iran. He was the sole Republican to fly with Secretary of State John Kerry to Cuba on Friday for a flag-raising ceremony at the U.S. Embassy in Havana.
Even so, the White House had never counted on Flake's vote, and Obama remains confident that a majority of Democrats in the House and Senate will support the deal and if necessary sustain a veto, said an administration official after Flake announced his position. The official spoke on condition of anonymity because he was not authorized to make a statement.
None of Senate's 54 Republicans had come out in favor of the Iran nuclear deal as of Aug. 13. Eighteen out of 44 Senate Democrats and the two independents who caucus with them were in favor of accord, which must be voted on before a Sept. 17 deadline. Senator Charles Schumer is the sole opposing Democrat so far.
Flake said that while the deal limits Iran's ability to produce sufficient material for a nuclear weapon for a period of time, it also limits the ability of Congress and future administrations to respond to Iran's non-nuclear regional behavior.
Lobbying Target
"Iran has already stipulated that it will view the imposition of new or similar sanctions as a breach" of the agreement, Flake said.
Flake added that the fact that the deal is being presented to the Senate as an executive agreement rather than a treaty means that lawmakers can't insist on clarifications.
"I am continuing to encourage the administration to work with Congress on legislation to accompany consideration" of the Iran deal "to clarify the sanctions issue," Flake said.
Flake has been the target of aggressive lobbying by groups that oppose the accord with Iran. Contracts on file with the Federal Communications Commission indicate that two groups that are opposed to the Iran deal were advertising in Arizona: The American Security Initiative and Citizens for a Nuclear Free Iran, the latter of which is linked to pro-Israel group AIPAC.
The American Security Initiative, which is backed by a bipartisan group of four former senators, specifically targeted Flake in an ad.
Before it's here, it's on the Bloomberg Terminal.
LEARN MORE