Biden, Amid Presidential Run Speculation, Consoles Chattanooga
Angela Greiling Keane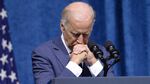 Vice President Joe Biden, the subject of rising media speculation about whether he'll run for the White House, gave a speech on Saturday that frequently brought him close to tears, recalling the five victims of shootings at military installations in Tennessee.
Biden, who has been on vacation in South Carolina, flew to Chattanooga to deliver the eulogy for the victims of the July 16 shootings carried out by a local man motivated by Islamic extremism.
"Nothing can replace the son who, as he walked away and turned and smiled at you, lit up your life. Literally, lit up your life, made you realize how worthwhile life was," Biden said to the families of the deceased. Biden lost his own son, Beau, at age 46 to a brain cancer in May.
Biden told the crowd that he carries a card in his pocket with the tallies of U.S. service members killed and wounded in wars in Iraq and Afghanistan. He updates it daily with official counts from the Defense Department, saying Saturday that 6,717 people have died and 52,321 have been wounded.
"It lists the number of dead, the number of wounded. Not a general number, the exact number. The precise number," Biden said. "Every single one of these warriors leave behind a family and community."
Biden didn't mention his potential presidential ambitions, nor reference other recent U.S. mass shootings. President Barack Obama in June eulogized the victims of a church shooting in Charleston, South Carolina, who were targeted while attending a Bible study class.
Before it's here, it's on the Bloomberg Terminal.
LEARN MORE