Republican Infighting Holds North Carolina's Bond Sale Hostage
Margaret Newkirk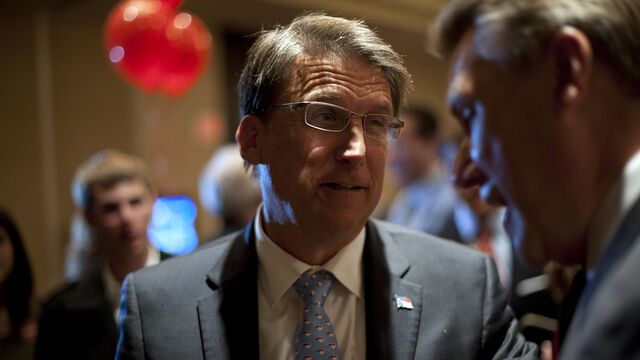 A proposal in North Carolina to sell the most debt in 15 years is in trouble, a victim of a blood feud in the state's ruling Republican Party.
A bill that would put a $2.85 billion bond sale on the ballot passed in the House last week, only to be taken hostage in the Senate, which assigned the measure to a committee that never meets. Meanwhile, legislators have yet to deliver a budget for the fiscal year that started July 1, the longest stalemate in 13 years. The bond issue is a bargaining chip.
"There's a lot of bullying going on and name calling and all sorts of crazy stuff inside the Republican Party," said Chris Fitzsimon, executive director of NC Policy Watch, a group that leans Democratic.
The battle in North Carolina mirrors a national division between anti-government Tea Party supporters and business-oriented Republicans, and between rural conservatives and urban ones. Similar rifts have appeared in Wisconsin, Alabama, Georgia and other states, and in the 2016 presidential primary race.
Veto Overrides
In North Carolina, Governor Pat McCrory has been in a fight with the Tea Party-friendly Senate almost since he took office in 2013, becoming the state's first Republican governor in a century to have a legislature ruled by his own party. On issue after issue, including rejecting Medicaid expansion under Obamacare and protecting opponents of gay marriage, the legislature forged ahead without him, sometimes overriding his vetoes.
The bond package, which would come as municipal borrowing costs hover near generational lows, is a pet project for McCrory. The former Charlotte mayor has been promoting it around the state since February. Proceeds would pay for transportation and state-facility projects, including improvements at universities, parks and ports.
One of only nine states with a top rating from Standard & Poor's and Moody's Investors Service, North Carolina has about $3.8 billion in general-obligation bonds outstanding, according to data compiled by Bloomberg.
The House tinkered with McCrory's bond proposal but passed a version of it. The real challenge is in the Senate, said Mitch Kokai, a policy analyst at the John Locke Foundation, a Raleigh-based group that advocates free enterprise.
"The Senate was fairly skeptical about any bond package from the beginning," Kokai said.
Invoking Edwards
The resistance strengthened as McCrory began blasting the Senate over a bill limiting how much economic-incentive money could go to Charlotte and Raleigh, and a plan that would allocate more sales taxes collected in urban centers to rural areas.
McCrory, 58, called the proposals divisive and leftist. He said their Senate backers were engaging in class warfare better suited to Democrats and trying to cripple the state's economic centers.
"It's almost John Edwards-type language being used by my own party," he told a Charlotte radio host in March, referring to the populist former U.S. senator and 2008 Democratic presidential contender.
Senators responded by calling McCrory irrelevant and tone deaf, good for little but cutting ribbons.
"The governor doesn't play a role in much of anything," Senator Tom Apodaca, chairman of the Rules Committee, told the News & Observer newspaper of Raleigh in July, when asked whether McCrory could help solve the budget impasse.
The state is now operating under a temporary measure that allows it to spend money without a budget. On Wednesday, lawmakers extended it until Aug. 31. North Carolina schools will open without knowing how much money they will have.
The Senate and House also disagree on how to contain Medicaid costs and on an 11th-hour proposal passed by the Senate that would put a so-called taxpayer bill of rights into the state constitution. Such an amendment, heralded by anti-tax purists, has caused budgeting headaches in Colorado, the only state that's tried one.
Treasurer's Warning
State Treasurer Janet Cowell, a Democrat, warned last week that a constitutional limit on taxation could cost the state its top bond rating. Even supporters say that the Senate went too far.
"The Senate just threw it out there last week," said Kokai, the Locke Foundation analyst. "Even those of us who like the idea think we need to pay attention to Cowell's message."
Meanwhile, McCrory's bill is sitting in the Senate Ways and Means Committee, a ghost panel that doesn't meet.
Graham Wilson, a spokesman for McCrory, said the governor continues to support the bond sale. He declined to say whether McCrory expects the proposal to pass.
"We've given the legislature a very solid proposal," he said.
Kokai said there might be a bond issue in some form when the legislature finally recesses, but not without other concessions to the Senate.
"The Senate is like the significant other or spouse who cares the least," he said "They have all the power here. If there is going to be a bond, the Senate will extract something."
Before it's here, it's on the Bloomberg Terminal.
LEARN MORE