Kerry in Havana Praises Escape From a History That Lingers
Indira A.R. Lakshmanan and Terry Atlas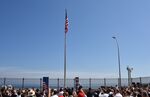 Even as John Kerry, the first U.S. secretary of state to visit Cuba since 1945, celebrated the two nations' decision "to stop being the prisoners of history," reminders of their still-fraught relations kept surfacing.
Kerry oversaw an event rich in optimism on Friday, as the American flag was raised over the U.S. embassy in Havana, a place the Cuban government long denounced as a "nest of spies." The Star-Spangled Banner played before an invited audience of Cuban guests and supportive American lawmakers. Thousands of Cubans watched from nearby streets and apartment buildings, and one man waved a homemade American flag.
After more than half a century "suspended in the amber of Cold War politics," Kerry said, "the time has come for us to move in a more promising direction."
But U.S. lawmakers opposed to President Barack Obama's moves to normalize relations criticized Kerry for not inviting Cuban dissidents to the event. And at a joint news conference, Kerry looked on as Cuba's Foreign Minister Bruno Rodriguez ran through a familiar litany of criticism of the U.S., on issues from racial divisions to unequal pay for women to the torture of suspected terrorists detained at the U.S. naval base at Guantanamo Bay.
Still, Rodriguez said talks between them were held "in a respectful and constructive manner." Kerry described the discussions as "extremely cooperative, constructive."
"The path to full normalization is not always going to be easy, we both understand that," Kerry said. "But we're confident that the establishment of our embassies is going to make it easier for our diplomats to work at these difficult issues."
Steering Committee
One result, Kerry said, was the agreement to establish a "steering committee" to guide continuing talks. In a roundtable discussion with reporters traveling with him, Kerry said the new panel's first meeting will be on Sept. 10 and 11 in Havana.
The top U.S. diplomat said he didn't attempt to meet with Cuban President Raul Castro on Friday's trip but may "if I come back in the winter -- which I think I probably will" -- provided that sufficient progress is made on tough issues such as human rights and claims for expropriated property.
"Those are the toughies," Kerry said, adding, "There's no way that Congress is going to lift the embargo if we're not moving on issues of conscience."
Trade Embargo
Leaders of the Republican-led U.S. Congress have vowed to resist Obama's call to repeal the long-running embargo on most trade with Cuba.
But Republican Senator Jeff Flake of Arizona, who had urged the administration to move toward reconciliation with Cuba and accompanied Kerry to Havana, told reporters that the lifting of the embargo is "inevitable, and perhaps sooner than people think."
While the resumption of diplomatic relations with Cuba has been celebrated by many in Cuba and the U.S., it's been criticized by lawmakers such as Senator Marco Rubio of Florida, a Republican presidential candidate, as a capitulation to the communist Castro regime.
In a speech in New York on Friday, Rubio, the son of Cuban immigrants, dismissed the Obama administration's talk of new opportunities for U.S. business.
Military's Role
"When you're opening up to the Cuban economy, what you're opening up to is this holding company run by the military -- in fact, run by Raul Castro's son-in-law," Rubio said. "So what American companies are going to find when they go to Cuba is No. 1, a government that's going to say, 'Well, we'll let you flag a hotel under your name, but it belongs to us...'"
The ceremony at the embassy was in part symbolic because Washington and Havana upgraded their limited diplomatic missions to embassies on July 20, when Cuba's flag was raised in the U.S. capital. The 1950s-era U.S. embassy, a six-story rectangle of cement and glass, is located on the Malecon, a boulevard overlooking the Bay of Havana.
Not invited to the gathering were dissidents pressing for change in the island nation, an absence cited by critics of Obama's Cuba policy including a Cuban-American Democrat, Senator Robert Menendez, of New Jersey.
That's normal practice in dealing with authoritarian regimes that refuse to attend the same events as their critics, according to U.S. officials. Kerry met later in his daylong visit with some dissidents, along with independent journalists, entrepreneurs and artists.
U.S. Companies
In his remarks at the embassy, Kerry said travel from the U.S. to Cuba has increased 35 percent since January and "more and more U.S. companies are exploring commercial ventures here that would create opportunities for Cuba's own rising number of entrepreneurs."
While "Cuba's future is for Cubans to shape," Kerry said, "We remain convinced the people of Cuba would be best served by genuine democracy, where people are free to choose their leaders, express their ideas, and practice their faith."
'Meant to Be'
Outside the embassy Friday morning, Jose Vasallo, a retiree who, at 67, lived most of his life under the U.S. embargo, arrived three hours early to get a good spot to watch the flag-raising. He said he was drawn by dreams of being closer to America that stretch back to his youth.
"Never in all my years could I have imagined this," Vasallo said, his voice breaking with emotion. "This should have happened so long ago. We are meant to be together, we Cubans and Americans. Now let's see where it goes."
Polls indicate Obama's move to restore diplomatic ties with Cuba, which is backed by 2016 Democratic presidential front-runner Hillary Clinton, is also popular with the American public. According to a recent AP-GfK poll, 71 percent say the U.S. should have diplomatic relations with Cuba. Twenty-five percent said it shouldn't.
Kerry was asked at the news conference if it's possible that the next president would pull back from rebuilding relations with Cuba.
"I can't imagine another president, Republican or Democratic, just throwing it all out the window," Kerry said.
Before it's here, it's on the Bloomberg Terminal.
LEARN MORE